Liberty Walk, the Japanese tuning firm renowned for creating crazy wide-body Lamborghini kits and the like, has turned its attention to the more humble MINI Cooper S.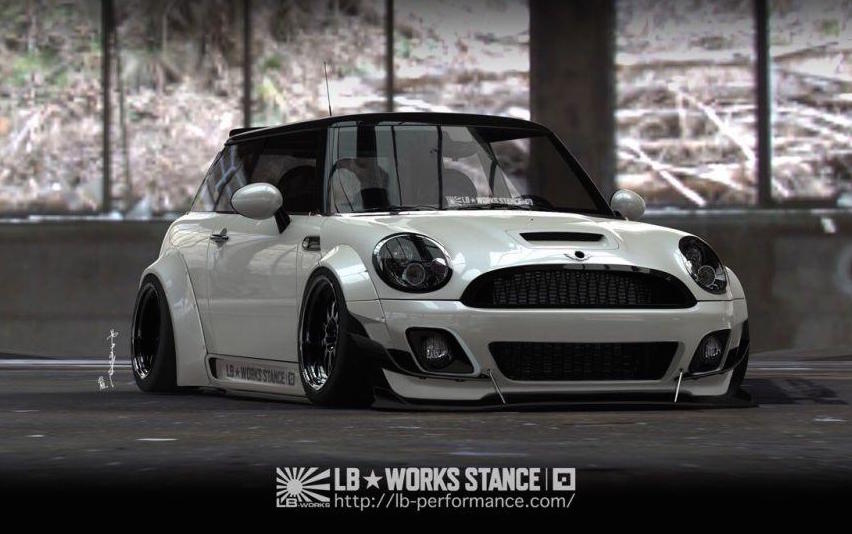 As you can see, the same wide-body thinking has been applied to the MINI. There's huge old-school-style wheel arch flares that give the Cooper a muscular road presence.
Inside the arches are a set of deep-dish tinted alloy wheels, teamed with a chunky rear diffuser, bespoke front and rear bumper bars, subtle side skirts, and a new wing mounted up near the roof.
Speaking of which, the roof and all pillars are in black for that cool Japanese street car look. Other highlights like the headlights, grilles and fog light clusters are dressed in black or darkened as well, to provide an overall white and black theme.
There's no mention of any engine or mechanical performance modifications, which probably means Liberty Walk is leaving that up to the owner. The company is offering the complete kit in plastic or exotic carbon fibre though, which could reduce some weight.
The kit is designed for the previous-gen 'R56' Cooper S which uses a 1.6-litre turbo engine producing 135kW. Prices start at US$6100 for the plastic kit and US$7500 for the carbon version.