The 2015 Gen-F HSV GTS Maloo is a vehicle that brings joy to motoring fans all around the world but it's also a vehicle that makes us Australians sad. You see, huge horsepower supercharged V8s aren't going to be around for much longer, especially in Australian form. All we can do now is enjoy the lunacy while it lasts.
HSV has limited time to produce many more Commodore-based models before local Holden manufacturing closes down in 2017. This means this epic ute could very well be the last high-powered V8 ute Australia ever makes. How will HSV survive? Speculations suggest it may form part of Opel's performance division, OPC, in Australia. There's also the possibility that HSV could provide enhancements for Holden's post-2017 showroom lineup which will be sourced from Chevrolet and Opel/Vauxhall.
Until then we can appreciate bad boys like this. This is the first Commodore-based ute to wear a GTS badge. It's also the most powerful ute Australia has ever made, and it is the most advanced and most capable ute in the world (PD claim). Power comes from a Chevrolet-sourced LSA 6.2-litre supercharged V8 producing an unholy 430kW and 740Nm. On the dyno, we saw 368kW at the wheels/hubs.
The engine can be matched up to a manly six-speed manual (as we're testing here) or a lazier six-speed auto. Prices start at $87,990 for the manual and $90,490 for the auto, making it some $28,000 more expensive than the regular 325kW Maloo (manual). Just 250 examples of the GTS ute are being produced.
2015 HSV GTS Maloo Gen-F – THE SPECS
Engine: 6.2-litre supercharged V8
Output: 430kW@6150rpm / 740Nm@3850rpm
Transmission: Six-speed manual
Drive type: Rear-wheel drive, limited-slip diff
Wheels: F: 20×8.5, 255/35  R: 20×8.5, 275/35
ANCAP: Five stars (scored 34.06 out of 37)
Kerb weight: 1830kg
Power-to-weight: 4.2:1 (kg:kW)
Official fuel economy: 15.3L/100km
Economy during test: 16.1L/100km
Fuel capacity/Type: 71L/95 RON
Power efficiency: 28.1kW:L/100km
0-100km/h as tested: 4.1 seconds
Priced from: $87,990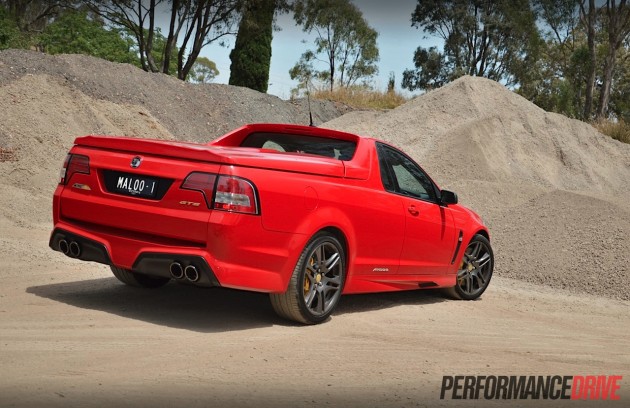 2015 HSV GTS Maloo Gen-F – THE PACKAGE
The latest batch of HSV models – the Gen-F series – are undoubtedly the most refined and most advanced yet. Interior quality is now up to international standards, with much more user-friendly controls and advanced technologies. In the GTS Maloo you get a layered dash with multiple materials, including suave, soft Alcantara sections in the dash, faux carbon fibre, and splashes of leather for the ultra-chunky bucket seats.
It's not the materials that stand out though. It's the user interface and on-board systems that deserve admiration we think. In the Maloo you sometimes have to remind yourself that this is a ute, with a 1600kg towing capacity. A ute with a functional tray that you could literally use on the work site for hauling dirt or heavy-duty tools – we recommend removing the tray cover as it does limit cargo height and it severely blocks rear vision.
For the driver there's an oil pressure and supercharger pressure gauge near the gear lever, and readouts within the touch-screen system which are all part of the HSV 'EDI' computer. You can view real-time engine output figures, check out your g-force generated during cornering or braking and acceleration, and there's even a lap timer stop watch. It's fantastic.
Gadgets aside, convenience is fostered via a standard satellite navigation system which is reasonably easy to use, with a rear-view camera supplying a set of eyes to areas that are not normally visible from the driver's seat. There's also blind-spot sensors, automated steering for parking, and a clean and clear head-up display system.
There are some aspects that could do with further development and thought we think, such as the seats. While they are very comfortable and supportive, they are almost identical to those used in the Maloo R8. The suspension is also the same. Obviously, the GTS Maloo requires different suspension settings to the sedan and thus misses out on the Magnetic Ride setup, however, it would be nice to see something more unique for the Maloo GTS over the Maloo R8.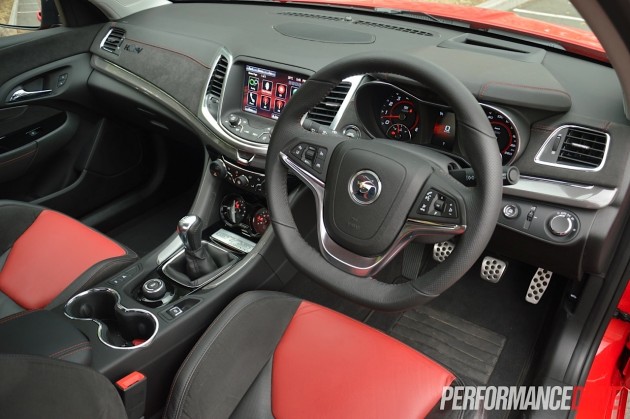 2015 HSV GTS Maloo Gen-F – THE DRIVE
Okay, now to the drive. It's actually quite difficult to sum up this crazy car's driving personality. On one hand it is immensely powerful with instant torque making it feel like you're constantly driving down steep hills. But on the other hand it's a placid and complaisant, and rather well-mannered Commodore.
The suspension is not exactly bone-jarring, although sporty, and the power delivery is relatively gentle if you stay this side of 30 per cent throttle. If you're thinking of buying this car but are concerned about the seriousness of that power output, we can confirm, it's not as frantic as the specifications suggest; anybody could drive it.
For those who like big doses of brute grunt, the GTS Maloo can provide there too. No matter how carefully you balance the throttle and clutch off the line, you're going to encounter some degree of wheelspin with anything more than half throttle. HSV provides a simple driver mode toggle to make the most of this occasion. Leaving it in Comfort mode results in instant traction control intervention. Sport mode allows some wheelspin but very little lateral movement. And then the Performance mode allows some wheelspin and some lateral movement (drifting).
They all work very well for their intended purpose. Intermediate to experienced drivers will enjoy the controlled slip of the Performance mode. Fortunately for hooligans and track driving fans, you can switch it all completely off. In this mode you can use the 430kW at your own discretion. Off the mark can be tricky – or fun – but from there you'll be surprised as grip from the 275 rear tyres is very high.
Around corners, even under power, the GTS Maloo remains planted and confident. It's amazing how much traction and grip is on offer. Being a ute you might be thinking it is light in weight. But in fact it tips the scales at 1830kg. We'd say it handles almost the same as the sedan counterpart. And that's high praise as it is completely foolproof in the corners. Of course, if you want to get the back end out, you can. You just have to use weight shifting techniques and a decent stab of the throttle.
In a straight line our best 0-100km/h time came up in a mind-blowing 4.1 seconds. This was achieved with the traction control turned off and by carefully releasing the clutch and then rapidly yet progressively applying full throttle. On a slicker surface we think you could get it down to 4.0 or even 3.9 seconds with the manual transmission. The problem is maximum torque comes in at 3850rpm, which means you need to rev it to avoid bogging down. But if you do rev it you'll lose traction in first gear. Every other gear is fine. We did try the sprint with the on-board launch control system but only managed 4.4 seconds.
Out in the mountains the main gripe we have is the sheer length of each gear. Second gear handles everything from 0km/h up to 110km/h-plus, which means it's not exactly snappy or punchy exiting from corners. It would be interesting to see how a shorter differential ratio would go (3.73:1 for manual and 3.23:1 for auto in standard form). Again though, the traction threshold is incredible, especially as tall gearing is not normally ideal for traction.
Like all HSV Gen-F models, the GTS Maloo comes with AP Racing six-piston brakes. These are proper racing brakes. You could take them onto a track and enjoy laps and laps before performance even thinks about diminishing. Take a look at our video below to see just how effortlessly it pulls up from 100km/h to a stop. It's all over in no time, and it takes some serious pressure to cause enough friction for ABS/wheel lock to occur.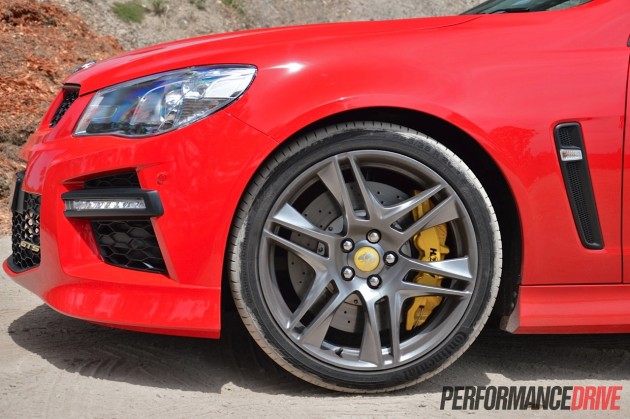 2015 HSV GTS Maloo Gen-F – THE VIDEO
2015 HSV GTS Maloo Gen-F – THE VERDICT
The HSV GTS Maloo is a friendly giant. It can lash out savage acceleration with its almighty power but it can also be driven in a civilised manner for daily duties. It is an extremely unique Aussie muscle car and one that will no doubt be a hot collector's item in the future.
We love the plush and puffy bucket seats, the eye-popping brakes, and the capable and poised handling. It would be interesting to see a shorter diff ratio as mentioned but this would obviously bring up the already wallet-frightening fuel economy. If you must ask, we averaged 16.1L/100km during our test (15.3L/100km official).
PROS:
– Enormous forward thrust
– Surprisingly easy to drive, even on the limit
– Excellent traction and grip
– Confident and composed handling
– Exclusivity; the fastest production ute in the world?

CONS:
– Annoying bi-modal exhaust, no 'leave open' option
– Long-geared manual takes away some enthusiasm
– Poor rear vision and blind spots
– Frequent fuel stops