Renowned Audi tuner ABT has turned its attention to Audi's smallest SUV, the Q3, and developed some tasteful cosmetic and engine tuning for the 2.0 TDI variant.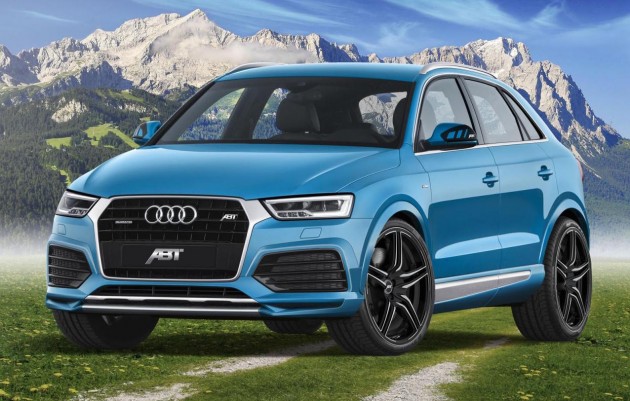 The company focused on tuning the 2.0 TDI diesel, lifting output from 135kW and 380Nm, to 154kW and 420Nm. Although it's not a huge lift, it would contribute to improved overall performance without sacrificing economy.
ABT usually goes for more subtle styling tweaks when it modifies the cosmetic side of vehicles. And the same can be said with the Q3 kit. There's a full bodykit, incorporating a new front bumper bar and spoiler system with silver highlights, along with matching side skirts also with silver highlights.
Around at the back there's a tailgate-mounted spoiler setup, while down below is a revised diffuser section and a new skirt extension to match the rest of the body. ABT has fit a custom quad-outlet exhaust system for that sporty and imposing look.
To top it all off the Q3 is given a set of bespoke ABT alloy wheels. Customers can select between sizes ranging from 18 inch to 21 inch, giving the SUV boosted street presence. The wheels sit nicely in the guards thanks to sports suspension which brings the ride height down by 25mm at the front and 35mm at the back.
Overall, you'd have to agree, the ABT Audi Q3 has a certain amount of style to it, almost overshadowing the RS Q3 performance variant built by Audi.