Six-cylinder fans might be upset that some of the tradition has gone with the latest four-cylinder BMW 328i Sport Line. You needn't worry though, BMW promises similar thrills as the old inline six with significant economical benefits.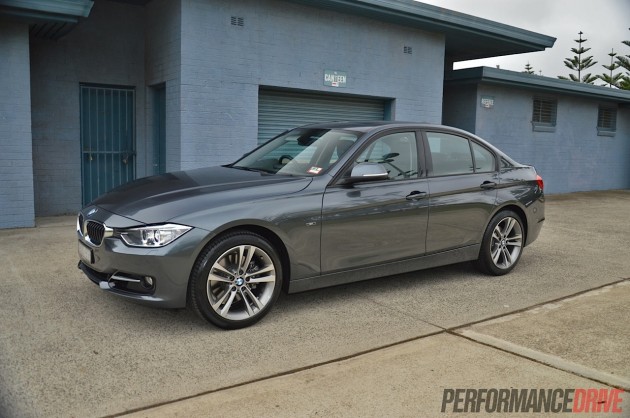 BMW swapped to an all-turbo lineup a few years ago to combat fuel consumption and emissions regulations. While forced induction isn't part of the company's heritage, it is tightly woven into its current and future philosophy. The TwinPower branding, which refers to twin-scroll turbocharging technology, can be seen under the bonnet of every model in the showroom.
The 'F30' (current shape) 3 Series received a mild update late last year, with revisions to pricing and reduced option prices, the introduction of a sports eight-speed automatic with launch control for all models in the range, and satellite navigation standard on all models. Vehicles fitted with the 'Professional' navigation system also get an updated iDrive controller with touch function (standard on 328i, 335i, ActiveHybrid 3).
Under the bonnet, the latest 328i comes with a 2.0-litre four-cylinder. It belts out 180kW and 350Nm thanks to a turbo blowing in around 18psi of boost. This makes it the most powerful mid-range premium sedan in this segment. The engine is one of BMW's prize possessions at the moment, being widely used throughout its showroom range including in the 320i (135kW/270Nm).
Prices for the 328i start at $68,900. Luxury Line, Modern Line and Sport Line themes are a no-cost option on the 328i.
2014 BMW 328i Sport Line – THE SPECS
Engine: 2.0-litre turbo four-cylinder
Output: 180kW@5000-6500rpm / 350Nm@1250-4800rpm
Transmission: Eight-speed auto
Drive type: Rear-wheel drive
Wheels: F: 18×8.0, 225/45  R: 18×8.0, 225/45 (run-flats)
ANCAP: Five stars (scored 36.76 out of 37)
Kerb weight: 1455kg
Power-to-weight: 8.0:1 (kg:kW)
Official fuel economy: 6.3L/100km
Economy during test: 8.9L/100km
Fuel capacity/Type: 60L/95 RON
Power efficiency: 28.5kW:L/100km
0-100km/h as tested: 6.3 seconds
Priced from: $68,900
2014 BMW 328i Sport Line – THE PACKAGE
To start with, the Sport Line no-cost option gives the 328i, as the name suggests, a sporty theme. There's no major suspension or engine tune changes or anything like that. It's more of a special attire given to the car for a distinct character. Specifically, there's red highlights seen in the interior, gloss black trimmings for the exterior, some 18-inch alloy wheels, adjustable ambient lighting, aluminium sill plates, and a Sport Plus driving mode.
The latest F30 3 Series cabin is one of the nicer places to be in this segment. It's modern and practical without being boring. There's a sweeping dash design which is infused with multiple materials and textures, lots of leather and exposed stitching, and some brushed aluminium for a touch of class. In the Sport Line you get some red piping down the main contours of the unique sports seats, with red stitching for the seats, sports steering wheel and door trim inserts.
BMW has done a great job with the front sports seats. They offer adjustable side bolsters, a soft lower cushion suitable for long journeys, and adjustable lumbar support for a healthy posture. The driver's position is also dead-on perfect with the wheel and pedals. Unfortunately, larger-framed individuals will find it a bit tight in the front. In this segment, the BMW and the Lexus IS interiors feel the smallest compared with the Audi A4 and Mercedes-Benz C-Class.
In the back there is a decent amount of headroom and legroom. The bench is also very comfortable and somewhat sporty, but it is narrow and the large driveline tunnel does intrude on some space compared with the other German rivals.
Stowing cargo is made easy thanks to a wide boot opening and a generous 480-litre capacity. The volume is the same as what is offered in the A4 and IS, but 15 litres smaller than the C-Class's boot. Infiniti's new Q50 sedan out-swallows the lot, with 500 litres.
It's typical for European marques to overwhelm buyers with vast options lists. In the BMW, it is no different. The company has made some adjustments to the list though and trimmed it down for all models. Being fairly high in the model range, you do get plenty for your money in the 328i without ticking any boxes.
You can enjoy playing around with the comprehensive 'Professional' grade 8.8-inch on-board computer with the updated iDrive controller. It's easy to use and unlike many new model cars on the market, you can operate the sat-nav while on the go.
There are some interesting gadgets like live power output gauges, a sophisticated trip computer with detailed economy reports so you can fine tune your hypermiling technique (if that's your thing), internet connectivity, and selectable driving modes (Eco Pro, Normal, Sport, Sport Plus). The driving modes change the feel of the electric steering, the suspension, the transmission response and point of gear changes, and the engine response.
2014 BMW 328i Sport Line – THE DRIVE
The 3 Series has always been regarded as the benchmark in terms of pure driving enjoyment. For the latest model the tradition is carried through. It's a tight, light and very sporty drive. Whether you're simply trundling around the city, zipping through the suburbs, or giving it a proper thrashing out on a mountain road, the 328i responds like it is always one step ahead of you.
Perhaps the core of this attitude is the steering. It's beautifully engaging, communicating every bump, every shaving of understeer or oversteer as soon as it happens, and all with a reassuringly meaty weight to it. It's one of those cars that you immediately connect with and become best buds.
Under normal to active conditions the ride is refined and quiet. Body roll is almost non-existent and the grip levels are sensational for a rear-wheel drive vehicle.
If you put it under some very serious pressure on a bumpy back road, as we did, you might find the suspension travel is not quite long enough. We've test all of the rivals on our favourite stretch of secluded 'test track' and the 328i Sport Line's front suspension did reach maximum compression, where the others have ironed through. This could be due to our test vehicle having nearly 10,000km on the clock – probably made up of a lot of hard driving and testing from other journalists.
On smoother roads the amount of speed you can carry into and through a corner is mind-blowing. The chassis is able to generate very high g-forces. And if you throw some weight around and get on the go-pedal nice and early, you can provoke a hint of opposite-lock fun.
Like other non-M models in the BMW showroom, switching the traction and stability control off doesn't actually turn the systems off; they will intervene if they feel it is necessary. We think this does detract from BMW's tradition of offering genuine and organic driving machines.
That aside, the engine serves up sudden and powerful bouts of power and torque. It really jumps and keeps building impressive momentum when you plant the throttle, screaming angrily while it's at it. We timed flat-out 0-100km/h acceleration in just 6.3 seconds (5.9 factory time). There's no noticeable turbo-lag or hesitation during overtaking. It's like a schizophrenic, snapping from smooth and relaxing to angry and rampaging in no time.
Best of all, while bringing brilliant performance to the table it is also very economical. We couldn't reach the official 6.3L/100km rating. Instead, we averaged 8.8L/100km, which is still quite good. Our driving style was mostly energetic as opposed to aiming for outright efficiency, if that's any consolation. Expect around 7.5L/100km in regular day-to-day conditions.
2014 BMW 328i Sport Line – THE VIDEO
2014 BMW 328i Sport Line – THE VERDICT
The important factor that you need to know is; the BMW 3 Series, including the 328i, remains as the leading driver's choice in this segment. The handling is a step above the rest and the engagement makes it a true companion on the road. It's also the quickest 2.0-litre in the segment and the most fuel efficient (officially).
Tweaking the options and option prices is a smart move by BMW, making it all the more appealing. Simply put, if you're in the market for this type of vehicle you must at least take one for a test drive.
PROS:
– Superb steering
– Well proportioned design with arguably the best interior in the class
– Excellent performance for a 2.0L
– Refined eight-speed auto
– Fuel economy

CONS:
– Cabin doesn't suit larger people
– Traction/stability control can't be turned completely off
– Too many warning chimes; door open, seat belt not on, ignition on…
2014 BMW 328i Sport Line – THE COMPETITORS
Audi A4 2.0 TFSI
2.0-litre turbo four-cylinder – 165kW-350Nm – 6.9L/100km – 1685kg – from $68,800
Mercedes-Benz C 250
1.8-litre turbo four-cylinder – 150kW-310Nm – 6.8L/100km – 1505kg – from $67,900