Following a teaser last month, Hyundai's premium sub-brand has now unveiled the all-new Genesis G90. This is Hyundai's finest vehicle ever.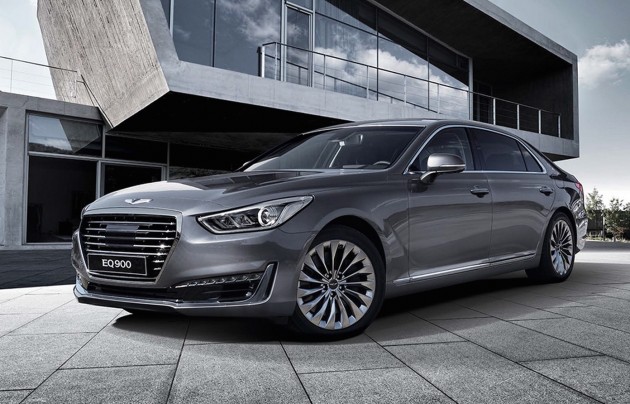 Sitting above the Genesis sedan sold in Australia, the G90 is targeted at the likes of the Mercedes-Benz S-Class and BMW 7 Series. It boasts a number of "world-best" technologies and luxuries, as well as a fresh styling language by the company.
The styling follows a new theme called "Athletic Elegance". Breaking down the phrase, it obviously means it's going for a prestigious and up-market approach but with some sporty credentials and personality.
It was designed under Hyundai's new Prestige Design Division, under Peter Schreyer (former Audi designer). The theme is modern and strong, offering lots of road presence. At the front is the "crest" grille and winged-feathers emblem, with a long bonnet and a short overhang.
Inside is where you'll want to be though. It's designed in the theme of "Graceful Luxury". All of these trendy phrases might seem gimmicky, but when you take a look, it's hard to argue the company has done anything but a superb job.
In terms of advanced features, the G90 will come with Highway Driving Assistance in Korea, allowing the car to drive by itself on the highway. This is tied in with Smart Cruise Control and Lane Keeping Assistance.
Seating is made as comfortable as possible thanks to special Smart Posture Caring (SPC) seats. Yep, another marketing phrase. Basically, the seat is able to automatically determine the optimal position for the driver's body.
For the passengers there's a 12.3-inch high-def wide-screen display in the main dash fascia, hooked up to a Lexicon sound system with Quantum Logic surround sound. There's also software capable of rebuilding details lost in compressed audio files via the car's Clari-fi system.
Under the bonnet the G90 will be available with a 3.3-litre twin-turbo V6 producing 272kW, a 3.8-litre V8 generating 231kW, and a 5.0-litre V8 developing 312kW and 520Nm. Acceleration times for 0-100km/h range from 6.2, 6.9, to 5.7 seconds, respectively.
Unfortunately, there are no plans for the G90 to go on sale in Australia any time soon. However, there are reports that Hyundai is planning to expand the Genesis brand, including more vehicles sold in more markets in the future. So, fingers crossed.