This is the new 2013 Ford Focus ST. It's the replacement to the very popular XR5. For the new model, Ford decided to relegate the howling XR5 2.5-litre five-cylinder turbo engine – potentially upsetting enthusiasts – and has introduced a 2.0-litre EcoBoost four banger.
Ford fans needn't fret though, the new model is more powerful and quicker. In fact, fans should be ecstatic; according to our stopwatch, the ST is as quick as a HSV Senator Signature.
2013 FORD FOCUS ST – PROS AND CONS
PROS:
Throaty engine sound
More powerful 2.0-litre turbo engine than XR5 predecessor; 184kW vs 166kW
Competent chassis and suspension setup, with rally-quick steering
Sporty interior, hip-hugging bucket seats
Good fuel economy; we averaged 10.7L/100km (mostly driving like a bit of a lark), official average is 7.4L/100km
CONS:
Aggressive torque-steer under full power
Touchy electric steering can be a bit too sensitive at times
Focus hatch boot space (317 litres) small compared with most rivals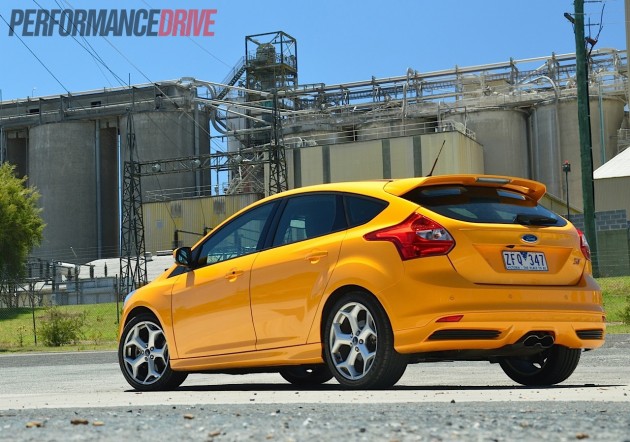 2013 FORD FOCUS ST – OVERVIEW
It's amazing to think that a relatively humble 2.0-litre front-wheel drive Ford Focus can be as quick as a proper 6.2-litre V8 muscle car. And this isn't even the yet-to-be defined high performance next-gen Focus RS. We're talking about a $38k practical hatchback here.
During our test we timed 0-100km/h in just 5.7 seconds. This puts it right up against the latest HSV Senator Signature, according to our tests and the demonstrator vehicles we were given. (Check out the video below if you need more convincing.)
Let's go over some of the basics. The Focus ST comes direct from Europe, bringing with it the new 'ST' (sports tuned) performance badge. Although Australians might not recognise the badge as much as we recognise the XR5 nameplate, the pedigree and the performance are both still very much alive and kicking.
So, apart from the new EcoBoost turbo engine that produces 184kW and 360Nm – up from the previous XR5's 166kW and 320Nm – the ST also comes with a complex Control Blade independent multi-link rear suspension – like the old high performance Focus RS – and a very sporty interior with deep body-hugging bucket seats, sports suspension, and a very good set of stoppers.
It also comes with a number of '2013' gadgets, such as a sound symposer tube on the intake manifold to enhance in-cabin engine noise, active corner headlights which light up when you're trying to park in the dark, as well as a comprehensive multimedia Ford SYNC LCD interface with sat-nav and a reversing camera.
Prices start at just $38,290 for the six-speed manual. For those who don't know how to change gears, hard luck, there is no automatic option.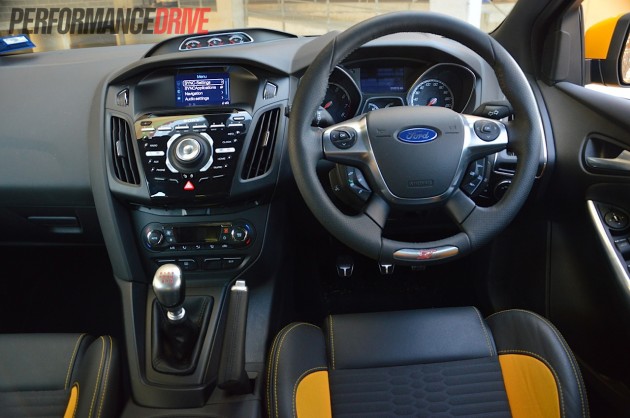 2013 FORD FOCUS ST – ENGINE SOUND AND 0-100KM/H ACCELERATION VIDEO
2013 FORD FOCUS ST – ACCOMMODATION AND EQUIPMENT
Inside, it's all dazzles and sparkles. The interior can easily be a bit too overwhelming if you're not used to this type of decor. There's buttons everywhere, in all kinds of cosmic shapes and sizes, and most of the controls and media interface needs a good going over before you fully understand how it all works.
Some of the buttons on the dash don't actually appear to be buttons either, making matters worse, however, they are integral to the operation of the five-inch LCD interface, and the kicking nine-speaker Sony stereo. Again, it all takes some time to get used to, especially if you aren't the kind of person that uses an app to do the shopping.
Once you're settled in, you'll notice the bright interior is accommodating and very comfortable. Even the big Recaro bucket seats in the front are soft yet supportive. Very supportive in fact. With huge side bolsters hugging you in place, it's like sitting on a big cuddly teddy bear.
The driving position is good, however, the steering wheel adjustment works on a kind of arching hinge. So although it does offer rake and reach, the rake action is more of a pivot/tilt. If you're a tall person, this could leave you with a bit of a bus-style flat steering wheel layout. Well, not quite that bad but you get what we mean.
In the back, rear seat space is ample for a car in this segment. The big Recaros in the front do intrude a little, but it's more of a perception thing, as in, their vastness blocks some forward vision giving you a minute feeling of claustrophobia. The rear bench is soft and comfortable though and offers decent lateral support via reasonably deep bolsters.
Boot space is the same as the normal Focus, which offers 317 litres (227 litres when fitted with a full-size alloy spare wheel – ST comes with a steel spare). The space can be opened up to 1101 litres by folding the rear seats down.
2013 FORD FOCUS ST – DESIGN AND SAFETY
The front end of the Focus ST is easy to pick over the normal Focus range. We think the normal Focus actually looks sharper, with the twin vertical pylons in the grille – removed on the ST.
The large fish-like mouth on the ST is in tune with Ford's current design language, and is also seen on other cars in the modern Ford stable such as the Falcon and the upcoming Fiesta ST.
Unique highlights for the ST in terms of exterior design include a full bodykit with sporty front and rear bumper bars, side skirts, and a large rear spoiler atop the hatch.
Quite disappointingly, similar 18-inch Y-spoke alloy wheels are carried over from the old Focus XR5. They're not ugly, but it would've been nice to see some fresher designs we think. Tyres have grown in width from 225mm to 235mm thanks to a wider rim, from 8.0 inch to 8.5.
Red ST badges in the front all-black grille and on the rear hatch complete the distinguishing sporty look.
Like the rest of the Focus range, the ST comes with the piece of mind of a full five-star ANCAP safety rating. There's the usual stuff such as traction and stability control, eight airbags, LED daytime running lights, and a reverse-parking camera, as well as more advanced equipment such as voice recognition and command (so you don't have to take your hands off the wheel to toggle media or to make a call via Bluetooth), and techno features such as Corner Under Steer Control (CUSC), and corner headlights. It's packed full to the brim with the latest helpers and assisting functions, in other words.
2013 FORD FOCUS ST – ON THE ROAD
Driving around normally, the Focus ST feels like a hot hatch; you immediately appreciate the fact this is a special car, and not your average Focus. The engine provides a nice shunt of torque from very low revs (340Nm from 2000rpm-3400rpm), and the suspension, while it is relatively soft for an all-out hot hatch, it does give you hints of firmness and sportiness going over speed bumps and the like.
This side of nailing the throttle, the steering is probably the most noticeable piece of mechanical equipment that tells the driver this is a performance car. It's an electric setup, but it has been tuned to feel extremely precise and quick. Almost too quick in some situations, and perhaps a little touchy if you're not used to really focused settings.
We feel Ford has just missed the mark with the electric steering, in terms of pure mechanical feel. It's very springy and returns to centre like it's under some serious tension. It can catch you by surprise, particularly if you drive with the tendency to let the wheel slip through your hands to return to centre.
It's not until you tackle some bends though that you see where this is all going. The steering is well-weighted and perfectly suited to active and energetic driving. It's more enthusiastic than, say, a Volkswagen Golf GTI. In saying that, the ST doesn't feel quite as solid on the road. It's more playful than sensible.
Slamming full throttle in second gear, the front wheels will chirp and begin to scramble for traction as the revs build (until the traction control puts a stop to it of course). During this time, the energetic steering tugs and pulls rather violently. We checked the tyre pressures after experiencing this for the first time, but it didn't change.
The ST doesn't feature a limited-slip differential, but it does come with Enhanced Torque Vectoring Control, which is a bit like an LSD, only brake torque is applied to spinning wheels to stabilise and direct the car. This is further complicated by a Torque Steer Compensation system, which basically applies power to the outside wheel. As you can probably tell just by reading that, there is a lot going on at the front axle – plus steering.
However, you don't hear many drivers complaining about a skittish rear end of a high-powered rear-wheel drive car, so we guess the same attitude can be applied to the Focus ST. The torque steer certainly livens up the drive and adds lots of excitement, at the very least.
As for the engine (not all that interesting to look at, we know), the 2.0-litre EcoBoost might be a common one, but it has been tuned and tweaked for ST. The unit has made its way into various vehicles over the past year, including the Ford Falcon and Mondeo, the Volvo S60/V60, and even the spunky Range Rover Evoque.
In most of them, it produces 179kW. In the Focus ST, it produces 184kW. This is thanks to a revised intake manifold and a specially tuned exhaust that gives off a sound that Ford describes as "refined at lower revs and a purposeful growl as the revs rise".
As you can hear in our quick 0-100km/h video, the engine sounds very throaty, like a quad-induction setup on an old rally car. The roaring soundtrack is down to a gadget Ford calls a sound symposer, which is basically a tube tapped into the manifold to resonate sounds through to the cabin.
There are those that will say using such a tool is cheating, suggesting it's a fake sound, however, when you floor the throttle and hear the engine angrily yelling its way to 6500rpm, and feel the subsequent g-force, you'll agree, there's nothing fake about it; the sound comes from the engine, it's simply made louder for your enjoyment.
It's a fun and exciting car to drive, the ST. Intoxicating, in fact, and, like alcohol, it can be addictive. Every time you drive it you get an inner urge that encourages you to give it some beans, more so than other sports cars. This might be down to the loud interior, and that throaty manifold.
With all this potential accelerator prodding going on, it's always a pleasure to be welcomed by top-notch brakes. The brakes on the ST are excellent. They aren't anything special to look at, with no cross-drilled discs or multi-piston calipers in sight, however, we put them to our usual tests – including high speed tests – and they didn't let up. The pedal dropped ever so slightly after repeated abuse, but the performance and bite remained strong.
2013 FORD FOCUS ST – VERDICT
What can be said about the Focus ST other than it's a cracking little car? It's fantastic if you love sporty/performance driving, and it's reassuring to know that it has all been engineered to support and cater for that; the brakes are excellent, the suspension walks that fine line between soft and suppleness in the suburbs while remaining firm and supportive out in the mountains, and the engine, well, if 5.7 seconds to 100km/h isn't quick enough for you, you might be looking in the wrong vehicle segment.
Apart from all this performance stuff though, being a top-of-the-range Focus, you also get all of creature comforts, gadgets, and conveniences, such as the Ford SYNC system with sat-nav, USB and Bluetooth, one-touch auto windows on all four doors, and good interior space and comfort.
If you can live with the hip and techno dash layout and the touchy steering – both of which are only a moment's away from getting used to – the Focus ST is, in our opinion, one of the best all-round hot hatches on the market.
2013 FORD FOCUS ST – THE COMPETITORS
Mazda3 MPS – 2.3-litre turbocharged petrol four-cylinder, 190kW/380Nm – 1456kg – $39,490
Excellent hot-hatch power and torque. Renowned Mazda reliability and good starting price. Slightly heavier than most.

Renault Megane RS265 Cup – 2.0-litre turbocharged petrol four-cylinder, 195kW/360Nm – 1375kg – $42,640
Regarded as the leader when it comes to hard-edged, super-focused front-wheel drives. Hard ride might be too unforgiving for some. Steepest price in this segment.

Toyota 86 GTS – 2.0-litre naturally aspirated boxer four-cylinder, 147kW/205Nm – 1298kg (auto) – $35,490
The only rear-wheel drive in this sporty segment. Excellent handling and dynamics. Could do with more power and especially more torque. Engine sound is nothing to write home about.

Volkswagen Golf GTI – 2.0-litre turbocharged petrol four-cylinder, 155kW/280Nm – 1360kg – $40,490
Perhaps the overall leader in this segment; good compromise between capable handling, comfortable ride, user-friendliness, and outright performance. Great engine soundtrack too. Not as quick, or powerful, as the Focus ST and Megane RS265.

2013 FORD FOCUS ST – SPECIFICATIONS
MODEL
2013 Ford Focus ST
ENGINE
2.0-litre 'EcoBoost' turbocharged petrol four-cylinder with direct injection
ENGINE SIZE  / COMPRESSION RATIO
2000cc / 9.3:1
BORE X STROKE
87.5mm x 83.1mm
POWER
184kW@5500rpm, 340Nm@2000rpm-4500rpm (360Nm overboost)
POWER TO WEIGHT RATIO
7.8: 1 (kg:kW)
KERB WEIGHT
1435kg
HEIGHT / WIDTH / LENGTH
1484mm / 1823mm / 4362mm
DRIVETRAIN
Six-speed Durashift MMT6 manual, front-wheel drive
BRAKES
F: 320mm ventilated discs
R: 271mm discs
WHEELS / TYRES
F and R: 18- x 8.5-inch alloy, 235/40 R18
FUEL TANK CAPACITY
62 litres
FUEL TYPE
95 RON (E10 recommended)
FUEL CONSUMPTION
Tested average: 10.7L/100km
Official average: 7.4L/100km
PERFORMANCE
0-100km/h: 5.7 seconds (tested)
PRICED FROM
$38,290
WARRANTY
Three-year/100,000km