In a perfect synergy of British pomp and majestic heritage, prestige, and tarmac-tearing muscle, the 2013 Jaguar XKR-S is one of those automobiles that everybody loves. It literally has the ability to make you new friends.
The Jag XK is a nameplate that has been etched into the fabric of Jaguar's – and Britain's – genes for over 60 years. Stemming from the original XK 120 of 1949, the model has a rich and much-loved history not only in automotive craftsmanship, but also in performance motoring and motorsport pedigree.
For Jaguar, the XK 120 was its first ever 'mainstream' production sports car. It set various high speed records in its day, including holding 130mph (209km/h) for an hour at a banked oval circuit in France in 1951.
The XK is still the company's main sports car, but these days it's more of a grand touring model, leaving room for the just-launched, smaller and lighter F-Type.
There are four main iterations of the current XK, including the coupe and convertible versions, and the XKR, which is like a Red Savana habanero chilli on the Scoville scale. And then you have this, the XKR-S, which is the full two-million heat-unit Trinidad Moruga Scorpion chilli – you tend to need a sit down and a drink of water after sampling it.
Prices start at the serious end of the super sports car market segment, kicking off at $299,000, without options or on-road costs.
2013 Jaguar XKR-S – THE SPECS
Engine: 5.0-litre supercharged V8
Output: 405kW@6000-6500rpm / 680Nm@2500-5500rpm
Transmission: Six-speed automatic
Drive type: Rear-wheel drive, active LSD
Wheels: F: 20×9.0, 255/35  R: 20×10.5, 295/30 (optional)
ANCAP: Not tested
Kerb weight: 1753kg
Power-to-weight: 4.3:1 (kg:kw)
Official fuel economy: 12.3L/100km
Economy during test: 15.2L/100km
Fuel capacity/Type: 71L/91 RON minimum
Power efficiency: 32.9kW:L/100km
0-100km/h as tested: 4.1 seconds
Priced from: $299,000 ($309,310 as tested)
2013 Jaguar XKR-S – THE PACKAGE
The cabin is relaxed yet dramatic enough to instantly reassure you that you've just bought a very special and potentially heart-palpitating piece of machinery.
You sit very low and long in the luscious sports bucket seat, which can be adjusted in what seems like an infinite number of ways, with the dash perched up and flat and the steering wheel right at your chest. It's a spot-on driving position and one that makes you feel at ease and comforted, even as you anticipate firing up that crackling V8 engine.
There's no point in trying to squeeze individuals into the rear seats. You're best off simply calling them a taxi. There's no other way to put it, they're shelves. Soft shelves with seat belts. Part of the reason they are there is likely down to legislative and factory design privileges given to four-seat cars.
As you look out over the long lustrous bonnet, with its real bonnet vents ready to let out the spine-chilling sounds of the supercharger, you'll probably want to get back out again to take another look at the sexy exterior.
It's as steamy as Chris Isaak's Wicked Game film clip, with mouth-watering carbon fibre flares and spoilers front and rear, and amorously curvacious rear haunches, not to mention the big bulging 20-inch optional gloss black Vulcan alloy wheels which are wrapped in 295/30s on the rear, and 255/35s on the front.
If you're planning a weekend away, in the back the cargo space is capacious enough to swallow a couple of large luggage bags and a set of golf sticks. The flat floor features metal strips, which not only give the boot some theatre, they also protect the floor from being carved up over years of wear and tear.
Standard infotainment for the XKR-S consists of Jaguar's touch-screen LCD multimedia interface which is paired with a powerful 16-speaker stereo system. Audio is clear and loud, and supports MP3, USB and Bluetooth playback, of course.
The interface itself does seem a bit clunky to operate, sometimes requiring multiple touches to navigate around to various common menus. It would be nicer with a remote joystick-type controller on the centre console. Having this though would ruin the clean surfaces and clutter-free approach that Jags are renowned for.
It's all really well made, with lots of chrome and stainless steel, including that gear lever which rises up from within the console like something out of a James Bond flick. It's spectacular, and adds a real sense of occasion to the whole interior during ignition.
This test vehicle is fitted with a number of tantalising, and not-so tantalising options. We get the heated suedecloth steering wheel, although quite expensive at $1710, it's lovely to grasp and especially comforting during cold early morning starts. Adaptive headlights which bend with corners are also very handy ($2100), but really should come standard on a vehicle of this stature.
The 20-inch alloy wheels are a must, setting you back $1700, while the carbon fibre engine cover ($3700) is perfect for impressing your friends, but unless you're running out of things to spend money on, it doesn't actually do anything. Lastly, a tyre pressure monitor ($1100) is great if you're planning on spending some time on the track.
As for safety, ANCAP, thankfully, hasn't crashed one of these pristine beasts into a wall for testing purposes, so a rating hasn't been given. It does come with an active electronic differential which does a wonderful job of sorting out the torque between the rear wheels, as well as four airbags, and switchable stability and traction control.
2013 Jaguar XKR-S – THE DRIVE
If you're not used to high-powered vehicles, you're likely to wet your pants if you flippantly nail the throttle in this. It's one of those cars that requires dedication and a certain level of delicacy, not to mention determination, if you want to get the most out of it. It can be touchy, relentless, and mind-blowingly quick if you want it to be. Ideally, a racing circuit is the place to be.
The power comes on very strong, and if you have it in the sportiest 'Dynamic' mode setting, very loud. It sounds like a NASCAR on the outside, yet, somehow, Jaguar has done a fantastic job of keeping the cabin well-insulated so you can still enjoy a highway cruise.
It's refined and rigid on the highway, and gathers speed with the slightest of throttle input. Thanks to the supercharger system, there is zero lag, with instant, savage acceleration available at your right foot.
The driveline is well-matched to cope with the onslaught of that mighty engine too. It feels connected and engaged, directly transferring torque to the rear wheels. It's then divided up by an electronic active differential.
We know what you're thinking, 'one of those electro diffs that brakes the inside wheel'. Fortunately, it's not one of those diffs. To us, it behaves just like a proper limited-slip differential, with no inside wheelspin slipping through, and plenty of opposite-lock foolery on offer.
Through the gears, on a private road we timed 0-200km/h in 13.1 seconds, which is astonishingly quick and a compliment to the XK heritage. 0-100km/h comes up in just 4.1 seconds.
Handling the big cat does require some getting used to, simply taking in the sheer size of the thing. Nonetheless, the steering is extremely quick off centre. It darts down twisty mountain roads like a much smaller and much more agile sports car, despite feeling a bit heavy, and it changes direction with minimal body roll. On the highway, the steering remains weighted and planted.
In Dynamic mode, the suspension is at its firmest. It can become fidgety in the city, especially on poor roads, however, it does well to soak up undulating surfaces and dips and bumps when you're out on your favourite winding road. It's reassuring and confident, despite all of the bells and whistles under the bonnet making a frantic scene.
It's a fairly heavy car, at 1753kg, even so, the taught suspension does manage to eliminate any sign of 'boatiness' that might otherwise be existent.
Jumping onto the brakes at speed is like being on a theme park ride. Massive g-force is sent through your body as the huge discs and multi-piston calipers bite the wheels. They withstand repeated abuse, stopping the big cat time and time again even with a lack of the more visually appealing cross-drilled discs that you might expect on a vehicle like this.
Overall, the XKR-S is a very naughty proposition. It loves to yell out its 405kW worth of anger in loud and forceful bursts, often with the rear tyres scrambling for traction – in all of first and most of second gear (with the traction control off). It's a mighty machine.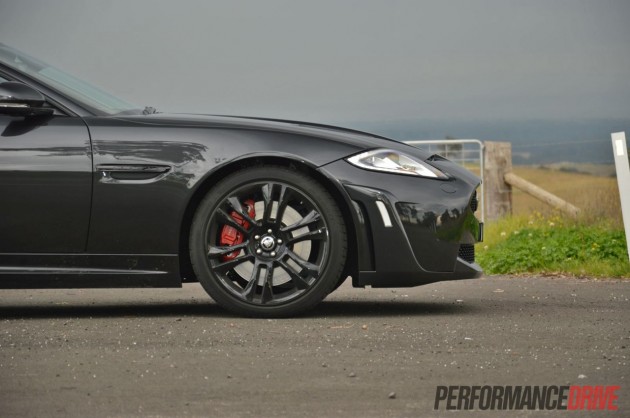 2013 Jaguar XKR-S – THE VIDEO
Exhaust sound – extended cut:
2013 Jaguar XKR-S – THE VERDICT
When we said at the start that everybody loves it, we meant it. Of all the vehicles we've tested over the past year or so, since the beginning of PD, we've never encountered so many strangers that just had to personally greet us and let us know what a beautiful car it is. We made friends with every petrol station attendant, and if there was a human nearby when we parked, they made smiley contact too.
The Jaguar XKR-S is a companion in that it's warm and fuzzy on the inside, yet, it also provides the one thing that only a true friendship often embraces; fun. It's an absolute larrikin. It's the life of a party. If we had the money, one would be in our garage.
PROS:
– Diabolical power and speed
– Instant throttle response
– Jaw-dropping exterior, more than turns heads
– Awesome brakes, well matched to the speed
– Exquisite interior

CONS:
– Throttle response too sensitive at times
– Firm ride
– Fiddly multimedia interface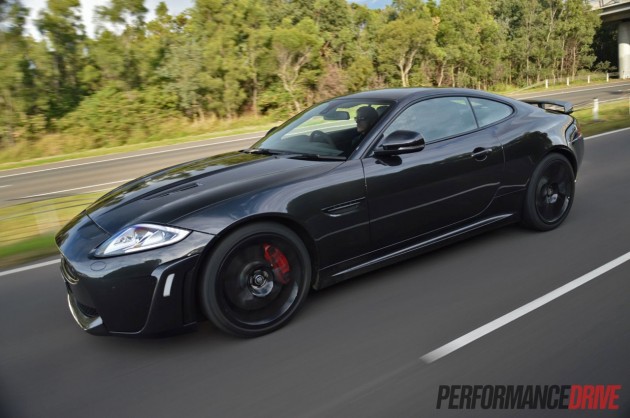 2013 Jaguar XKR-S – THE COMPETITORS
Audi R8
4.2-litre V8 – 316kW-430Nm – 14.2L/100km – 1635kg – from $279,500 (manual)
BMW M6 Coupe
4.4-litre twin-turbo V8 – 412kW-680Nm – 9.9L/100km – 1850kg – from $292,145
Maserati Gran Turismo Sport MC
4.7-litre V8 – 338kW-520Nm – 15.5L/100km – 1880kg – from $345,000
Mercedes-Benz SLS AMG
6.2-litre V8 – 420kW-650Nm – 13.3L/100km – 1736kg – from $468,320
Porsche 911 Carrera S
3.8-litre flat six – 294kW-440Nm – 9.5L/100km – 1470kg – from $243,100 (manual)