Jaguar has announced that the 2016 F-Type will receive new powertrain and driveline options, as well as increased levels of standard equipment.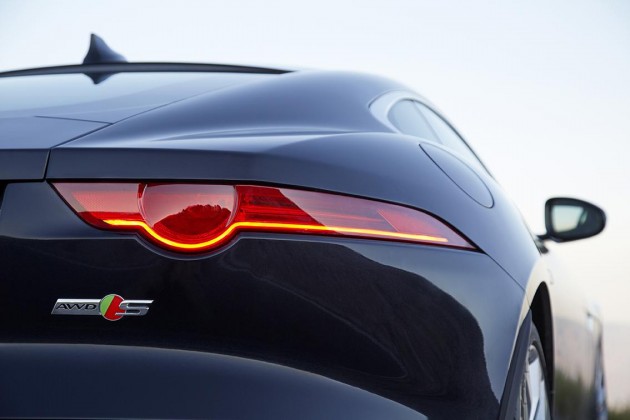 As of the 2016 model all 404kW F-Type R models will gain all-wheel drive as standard equipment, giving the fast V8 enough grip to shoot from 0-100km/h in 3.9 seconds – down from 4.2 seconds in the current rear-wheel drive model.
The all-wheel drive setup sends 100 per cent of the engine's torque to the rear wheels in normal driving conditions, but will offer 50 per cent of the torque to the front axle if the system detects the front wheels are approaching the limit of available grip.
For the first time on the F-Type buyers will be able to go for a ZF-designed six-speed manual, however it'll only be offered on the rear-wheel drive supercharged V6 models. All V6 models will remain rear-wheel drive as standard, however buyers can chose to upgrade to all-wheel drive on the V6 S coupe and convertible.
Jaguar has also reveled the 2016 model will gain new electric power assisted steering, ditching the current hydraulic setup to help reduce emissions and fuel consumption. Other notable updates include a 770-watt Meridian surround sound system, SiriusXM satellite radio, 14-way adjustable power seats, and Jaguar's InControl suite of connectivity.
Ian Hoban, vehicle line director, Jaguar, said,
"Our target with engineering the all-wheel drive F-Type was to maintain that engaging rear-drive character that's so important to Jaguar sports car DNA, and offer even greater dynamic capability. With the manual transmission option for the V6-powered F-Type models, we've gone to intricate lengths to engineer a very precise, technical and responsive level of interaction between the driver, the clutch and the transmission shift mechanism. It's one for the driving purists – and I count myself as one of them."
The MY15 F-Type is currently on sale in Australia, with prices starting from $119,430. The 2016 model should be available towards the end of next year. We'll keep you posted.