Infiniti has revealed the first image of its Q50 Eau Rouge concept, which is set to premiere at the 2014 North American International Auto Show in Detroit on January 14. The high-performance concept, based on the carmaker's new Q50 sports sedan, has drawn inspiration from Infiniti's four-time F1 world championship winning Red Bull Racing car.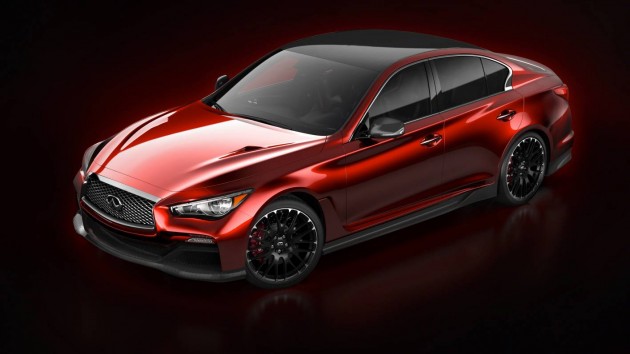 At first glance it's clear Infiniti has set out to make a leaner and faster car with the sportier Q50 concept. According to Infiniti the bodywork has been redesigned with aerodynamics in mind, and it's made from carbon fibre. The concept is lower and wider than the regular Q50, with detailed carbon fiber front and rear splitters and side sills.
Infiniti's executive design director, Alfonso Albaisa, said much of the concept's styling was taken from the Red Bull Racing F1 car.
"From our shared passion for performance with Infiniti Red Bull Racing grew a collective desire to produce a vision of what a high-performance Infiniti Q50 could look like. The design has a number of distinctive Formula One inspired touches. In particular, the sculpted front wing assembly and the rear aerodynamic packaging take their cues from the RB9 race car."
Infiniti is keeping tight-lipped on further aspects of the concept, but all will be revealed in Detroit in the coming weeks.
First impressions are this will be a fantastic vehicle, so we're eagerly anticipating more information.
The regular Infiniti Q50 will arrive on the Australian market very soon. It will compete with the likes of the Audi A4, BMW 3 Series, and the Lexus IS.