The national VFACTS vehicle sales figures for Australia for April 2015 have been released, and it looks like small SUVs are definitely the flavour of the month.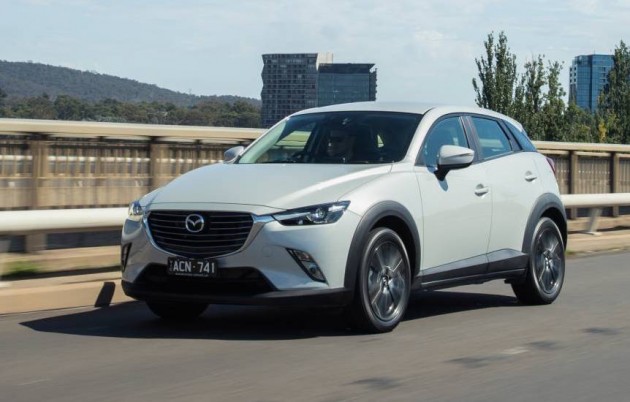 There's no surprise what company sits at the top of the leader board in terms of overall sales. Toyota reported the highest figure, despite being down by around 4000 compared with March figures. Ford jumped a couple of places into fifth compared with the previous month, while Mercedes-Benz has nudged Honda out of the top 10 once again. Volkswagen also moved from eighth to sixth spot. The top ten brands for April 2015 were as follows:
Toyota – 15,299 (down from 19,082 of March 2015)
Mazda – 8068 (down from 10,217)
Hyundai – 7210 (down from 8709)
Holden – 7072 (down from 8571)
Ford – 5163 (down from 6023)
Volkswagen – 4572 (down from 5525)
Nissan – 4188 (down from 7138)
Mitsubishi – 4077 (down from 6307)
Subaru – 3052 (down from 4002)
Mercedes-Benz – 2654 (down from 3482)
In terms of the most demanding vehicle models, specifically, the Toyota Corolla has come home with the goods once again. It fended off its arch rival quite easily in April, recording almost 1000 more sales.
The Mazda3 dropped so much in fact the Toyota HiLux pushed its way into second place. Hyundai's i30 sits just beneath the otherwise very popular Mazda3. The top five models in terms of outright sales for April 2015 were as follows:
Toyota Corolla – 3238 (down from 4261)
Toyota HiLux – 2789 (down from 3346)
Mazda3 – 2365 (down from 3558)
Hyundai i30 – 2298 (up from 2098)
Holden Commodore – 2043 (down from 2436)
In the Medium Cars under $60,000 segment, Toyota Camry sales have plateaued out a bit. It still stands in front though, with 1141 sales. The closest model was the Mazda6 with 415 sales, and the Subaru Liberty with 254 sales.
Moving up into the premium mid-size Medium Cars over $60,000 segment, the Audi A4 has been pushed back down into fourth place. Mercedes-Benz dominates the segment, taking the top two positions with the sleek CLA-Class just overtaking the BMW 3 Series. The top five in this segment were as follows:
Mercedes-Benz C-Class – 681 (down from 918)
Mercedes-Benz CLA-Class – 304 (up from 226)
BMW 3 Series – 303 (down from 393)
Audi A4 – 233 (down from 395)
Lexus IS – 175 (down from 184)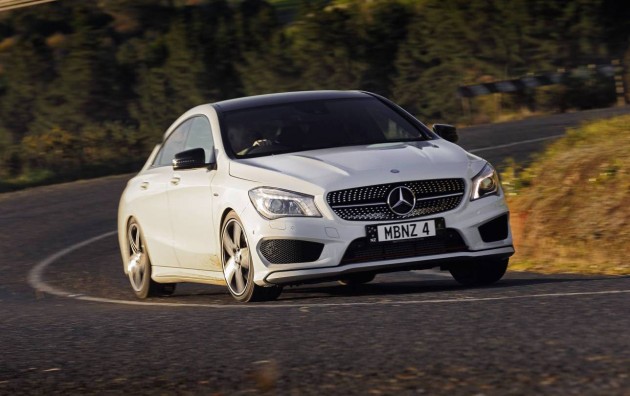 In the slowly withering Australian Large Cars under $70,000 category, Holden is maintaining decent sales, reporting 2043 in April (down from 2436 in March). However, the poor old Ford Falcon isn't picking up, despite the release of the new FG X model, recording just 446 sales for the month (down from 501). Further down the line the Toyota Aurion posted 241 sales (down from 268).
If you want a large sedan you might soon have to step up into the premium Large Cars over $70,000 segment. And in this market, the Mercedes-Benz E-Class shines the brightest. Well, at least in April it did. The E-Class overtakes the BMW 5 Series in the usual neck-and-neck battle, while the Audi A6 nudges the Maserati Ghibli out for fourth place. The top five in this segment were as follows:
Mercedes-Benz E-Class – 98 (down from 101)
BMW 5 Series – 60 (down from 130)
Jaguar XF – 56 (down from 64)
Audi A6 – 48 (down from 73)
Mercedes-Benz CLS-Class – 32 (down from 37)
In the fun Sports Car under $80,000 segment, Hyundai is continuing its lead on the otherwise unstoppable Toyota 86. Again, the Veloster dominates. Audi has moved into fourth spot with the A3 Convertible, while the Subaru WRX, which VFACTS continues to place with the Corolla, would be in third. The top five models in the category were as follows:
Hyundai Veloster – 322 (down from 347)
Toyota 86 – 272 (down from 334)
BMW 2 Series Coupe/Convertible – 176 (up from 152)
Audi A3 Convertible – 53 (up from 35)
Subaru BRZ – 41 (down from 102)
(Subaru WRX – 226 [down from 331] – not officially in this segment)
Crank up the power into Sport Cars over $80,000 class, and we see the new Audi TT has started to show its face. It stands ahead of the Lexus RC, just, while the BMW 4 Series leads the category. Mercedes-Benz C-Class Coupe sales dropped right back as preparation for the new model nears. It's worth noting Alfa Romeo sold 23 examples of the hot new 4C, placing it just behind the Mercedes SLK (28). The 4C even outsold the Porsche Boxster (18) and Cayman (15). The top five in this category were as follows:
BMW 4 Series Coupe/Convertible – 175 (down from 224)
Mercedes-Benz E-Class Coupe/Cabrio – 75 (down from 113)
Mercedes-Benz C-Class Coupe – 60 (down from 499)/Audi A5 – 60 (down from 88)
Audi TT – 54 (down from 57)
Lexus RC – 53 (up from 48)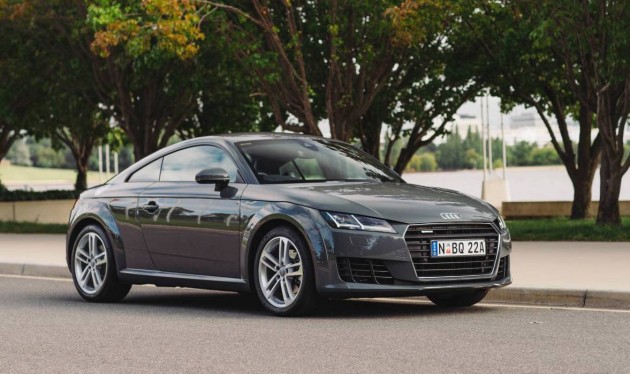 Over in the dreamy Sport Cars over $200,000 category, Porsche storms ahead with sales of the 911. Meanwhile, Ferrari and Lamborghini posted very impressive figures again for such a bespoke manufacturer, placing themselves in second and third overall. The top five in the category during April 2015 were as follows:
Porsche 911 – 43 (up from 37)
Ferrari (models not specified) – 17 (equal)
Lamborghini (models not specified) – 16 (down from 17)
BMW 6 Series – 11 (down from 20)/Mercedes-Benz S-Class Coupe – 11 (up from 6)
Maserati (models not specified) – 10 (down from 15)
In the workhorse segment, the 4×4 utes, Toyota dominates once again reporting 1938 sales of the HiLux. Ford's Ranger takes home second place with an impressive 1710 sales, while Mitsubishi's Triton picked up third place, probably thanks to the introduction of the new model, with 1279 sales.
For the overall Combined 4×2 and 4×4 ute sales, it's Toyota once again with the 'unshakable' HiLux. Ford moved up a spot into second place with the Ranger, while the Isuzu D-Max shifted from seventh to fifth. The rest of the lineup standings remain unchanged. The top ten 4×2 and 4×4 combined figures for April 2015 were as follows:
Toyota HiLux – 2789 (down from 3346)
Ford Ranger – 2200 (down from 2424)
Mitsubishi Triton – 1538 (down from 2940)
Holden Colorado – 1328 (down from 1511)
Isuzu D-Max – 1044 (down from 1181)
Mazda BT-50 – 897 (down from 1278)
Nissan Navara – 841 (down from 1345)
Volkswagen Amarok – 569 (down from 881)
Great Wall V240 – 10 (up from 6)
Ssangyong Actyon Sports – 9 (down from 14)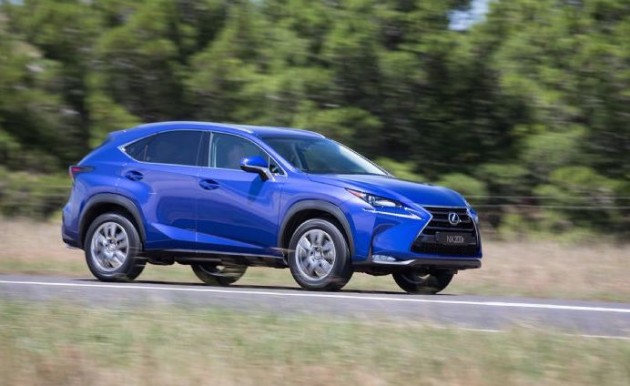 Now for one of the most popular vehicle categories, the SUVs. The new Mazda CX-3 jumps ahead to be the most popular SUV in the small category, while the Lexus NX charges ahead in the premium small SUV class to claim top spot for the first time. The Lexus NX was recently launched with a new 2.0-litre turbo option (NX 200t), which may have helped it along.
In the next size up, the Mazda CX-5 easily outsold its rivals, with the Toyota RAV4 overtaking the Nissan X-Trail for second place. Meanwhile in the premium sector, the Audi Q5 posted big numbers for top spot, with the Porsche Macan budging its way into second place.
Other interesting movements include the recently-updated Volkswagen Touareg, which made it to second spot in its segment, while the Toyota Prado and Kluger dominated the family seven-seat class. In all SUV segments the top-sellers for April 2015 were as follows:
SUV Small under $40,000:
Mazda CX-3 – 1396 (up from 814)
Hyundai ix35 – 1389 (up from 1344)
Honda HR-V – 859 (down from 1081)
SUV Medium under $60,000:
Mazda CX-5 – 1868 (down from 2344)
Toyota RAV4 – 1399 (down from 1525)
Nissan X-Trail – 1171 (down from 2076)
SUV Medium above $60,000:
Audi Q5 – 363 (up from 141)
Porsche Macan – 195 (up from 129)
Range Rover Evoque – 182 (down from 252)
SUV Large above $70,000:
Range Rover Sport – 304 (up from 232)
Volkswagen Touareg – 178 (down from 322)
BMW X5 – 174 (down from 302)
SUV Upper Large under $100,000:
Toyota LandCruiser – 806 (down from 914)
Nissan Patrol – 138 (down from 164)
Total new vehicle sales in Australia in April were down on March's efforts. In April Australian buyers purchased 81,656 vehicles, compared with 105,054 in March. Sales were up 1.2 per cent compared with April 2014 though, and year-to-date figures are up 3.5 per cent.
As for the most popular fuel types that buyers went for in April, there's no doubt electric vehicles are gaining popularity. Despite a decent drop in overall vehicle sales electric vehicle numbers rose by nine. The figures for private buyers in terms of vehicle fuel were as follows (passenger, SUV, and light commercial combined):
Petrol – 32,165 (down from 40,934 of March)
Diesel – 10,752 (down from 14,186)
Hybrid – 246 (down from 311)
LPG – 20 (down from 21)
Electric – 34 (up from 25)