The 2012 Ward's 10 Best Engines results have been announced. The soon-to-be 2.0-litre EcoBoost Ford Falcon engine is in the rankings while the Audi 3.0 TFSI V6 is the rated best.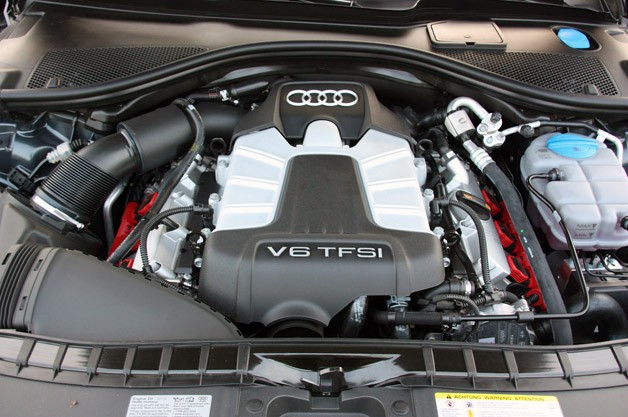 Taking out top honours this year is the 3.0-litre supercharged TFSI V6 petrol engine from the Audi A6. It produces a very healthy 220kW of power and 440Nm of torque. It's both powerful and very fuel efficient, boasting an average fuel consumption rating of just 8.2L/100km (the same as a Mazda3).
Rounding out the top three are two of BMW's latest TwinPower units, including the N20 2.0-litre turbocharged four-cylinder, offering 180kW and 350Nm – found in the new BMW 528i and BMW Z4 sDrive28i, and the 3.0-litre N55 turbocharged straight six, offering 230kW and 450Nm of torque – found in various models.
As for the Aussie Falcon reference, picking up fifth spot in the list is the Ford 2.0-litre EcoBoost four-cylinder engine that will power a range of 2012 Ford Falcon variants from early next year. It produces, at least in the Ford Edge application for the awards, 177kW and 340Nm.
Another Ford unit also sits in the top 10, the 302 5.0-litre Coyote V8. It's in sixth spot right behind the EcoBoost. It's available in the Ford Mustang Boss in the US, and, in revised form, the current Ford FPV GT.
Check below for the full 2012 Ward's 10 Best Engines list.
3.0L TFSI Supercharged DOHC V-6 (Audi A6)
2.0L N20 Turbocharged DOHC I-4 (BMW Z4/528i)
3.0L N55 Turbocharged DOHC I-6 (BMW 335i coupe)
3.6L Pentastar DOHC V-6 (Chrysler 300S/Jeep Wrangler)
2.0L EcoBoost DOHC I-4 (Ford Edge)
5.0L DOHC V-8 (Ford Mustang Boss 302)
2.0L Turbocharged DOHC I-4 (Buick Regal GS)
1.6L DOHC I-4 (Hyundai Accent/Kia Soul)
2.0L Skyactiv DOHC I-4 (Mazda3)
3.5L DOHC V-6 HEV (Infiniti M35h)