Ford Australia has revealed the new 2015 Ford Falcon XR8 and XR6, showcasing the new global design language which will be adopted across the 2015 Falcon range.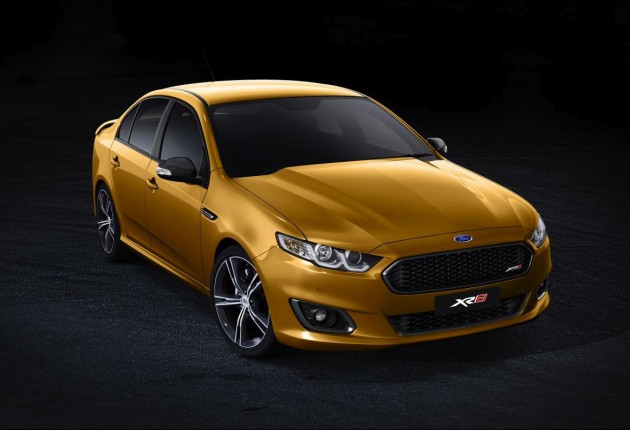 Ford is calling it the "best Falcon ever", with improved technology, performance, and design. The XR, including the confirmed XR6 and XR8, will feature a distinct styling theme separate from the rest of the Falcon range.
The Falcon and XR models have been designed by the Australian design team. Ford says it is their interpretation of the current global Ford design language, incorporating a trapezoidal front grille, angular headlights, and wrap-around taillights using LED technology.
Bespoke to the XR are the power dome bonnet which now extends right up to the windscreen (inspired by the new Mustang bonnet), 'hockey stick' LED-encrusted headlights with XR shields, a sporty front bumper bar and bodykit, strong exterior graphics, and some dark grey trimmings for a fashionably sinister look. Nima Nourian, 2015 Falcon Exterior Design Manager, said,
"The challenge was delivering a powerful, yet premium look for the 2014 car. I'm proud of the fact that the new Falcon XR builds on an already distinctive design and yet delivers a whole new personality.

"On the XR series, we wanted a three-dimensional honey-comb grille mesh, which visually demonstrates the sporty nature of the car. The power dome on the XR8 also further enhances this look. The power dome expresses the car's intention and for our XR8 customers, will be an instantly recognisable difference."
Ford president and CEO Bob Graziano is pleased with the final product, saying,
"Quite simply, we think this is the best Falcon ever. I just couldn't be more pleased with what the talented local team's been able to accomplish, I'm really proud of them.

"When you look at cars like the new Falcon, it's easy to understand why we are now leading global projects such as the new Everest which is designed and engineered in Australia for the world."
In terms of specifications, Ford hasn't yet spilled the beans on the finer details. However, Graziano confirmed the EcoLPi six will continue to be offered, as well as the regular six and turbo six. He said,
"Four, six, or eight; our customers will have more choice. To enhance the choice too, our six cylinder customers will also be able to choose between the locally developed EcoLPi engine or Turbo six cylinder, as well as the naturally aspirated six."
More details including pricing and specifications will be revealed closer to its launch, scheduled for the fourth quarter of this year.