McLaren has announced it is scheduling an April 2015 release for its latest baby supercar, the 'Sports Series'. It will compete squarely at the likes of the Porsche 911.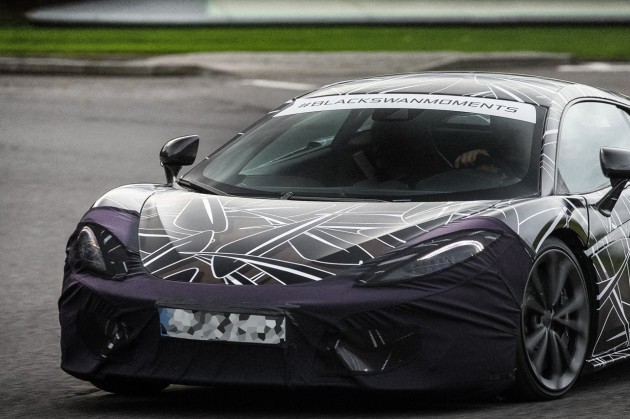 If the name seems a little confusing, bare with us a minute. Also known by its codename, the P13, the Sports Series is the name given to the entire range based from the same platform, with the base model, drop-top and performance variants each to be given individual names.
The Sports Series will be positioned at the bottom of the McLaren showroom hierarchy, sitting below the P1 and 650S. It is aiming to stand firmly on the toes of Mercedes and Porsche, with the Sports Series sitting right in the performance and price bracket of the Porsche 911 Turbo and all-new AMG GT-S. McLaren said,
"Scheduled to premiere on the world stage in the second quarter of 2015, McLaren has now confirmed that its latest model, previously referred to only by its internal codename 'P13', will be known as the McLaren Sports Series. It will join the range below the 650S, bringing McLaren credentials and exclusivity to the sports car segment for the first time."
The power is set to come from yet another iteration of McLaren's 3.8 litre twin-turbo, which should be in the ballpark of around 350-375kW. Just for reference, a Porsche 911 Turbo produces 381kW, and 375kW from the AMG GT-S.
Where the P13 is expected to stand out from the competition is weight. In an interesting departure from the aluminum monocoques favoured by its rivals, the Sports Series will have a carbon fibre tub known as a MonoCell. It will also feature McLaren's ProActive Chassis Control system, which is an anti-roll bar-free suspension, which uses hydraulic fluid pressure to stiffen each shock absorber independently, and in turn improves the quality of the ride.
Expect to see the base model of the new Sports Series in showrooms in April next year, with an Australian price tag around the $250,000-300,000 mark.