Lexus has officially unveiled the new 2012 Lexus GS 350 at the Pebble Beach Concours d'Elegance event in California, USA. Some of the specific engine details and trim levels haven't been released yet but the interior and exterior is revealed in full, and an F-Sport version has been confirmed.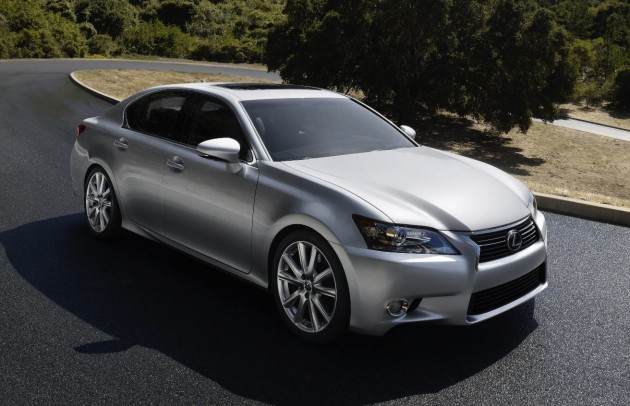 The new 2012 Lexus GS range is promising to be a very strong and sporty competitor to the German rivals, such as the BMW 5 Series, Mercedes-Benz E-Class and the Audi A6, with its all-new underpinnings developed on the Nurburgring. Lexus recently spoke about the engineering that went into the new GS, saying in a recent release,
"Engineers conducted extensive platform testing, ultimately increasing the number of spot welds and adding laser welds in very specific locations, yielding an increase in torsional rigidity of 14 per cent.

"The track, wider by almost 50mm rear and 40mm front, works in combination with a new suspension design to assure a solid stance and superior cornering performance.

"Up front, upper and lower control arms are made from aluminum and employ larger bushings.

"The rear sub-frame has been completely redesigned to accommodate an all-new multi-link rear suspension, using improved suspension geometry that maximises tyre cornering force and enhances rear control."
Visually, earlier reports indicated that the new Lexus GS 350 would take a lot of inspiration in design from the Lexus LF-Gh Concept, and by the looks of these images, it does ring true.
At the front there's an aggressive chin spoiler and front apron, while the headlights give off that traditional Japanese samurai sharpness. The front bumper bar also features bold cheeks and a well-plumped grille and centre fascia, with chrome trimming.
From the side, it is typical Lexus fare. It's conservative yet stylish and smart. There's a neat little side skirt blended in and solid slab-like doors as well.
Around the back, new taillights blend in with the sweeping lines of the rear layout. There's also futuristic samurai-sharp exhaust outlets and a tidy little integrated rear diffuser.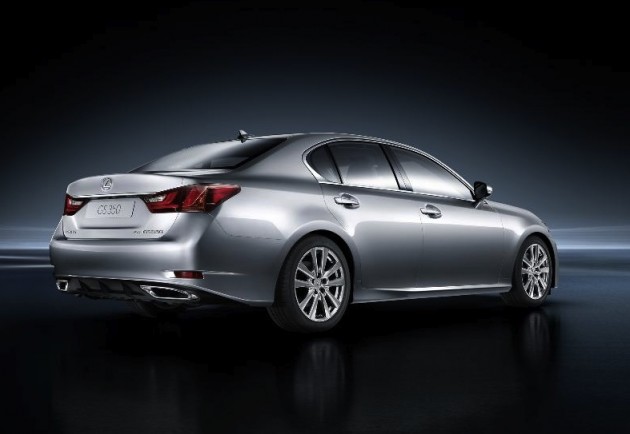 As for the engines, there will be a Lexus GS 350 with a 3.5-litre V6 outputting 233kW and 376Nm. This model will be capable of 0-100km/h in just 5.7 seconds. A Lexus GS 450h hybrid has also been confirmed, as has a Lexus GS 250 version. Rumour has it Lexus is even developing a GS F version, which could come with a 5.0-litre V8, an engine that is also seen in the IS F.
Each variant will be available with an F-Sport pack. The pack is expected to come with a smattering of performance details such as a limited-slip differential, uprated wheel and tyre package and more aggressive suspension options.
The new 2012 Lexus GS 350 will also come with a six-speed automatic transmission. The transmission will provide three different driving modes, each offering the driver the most suitable characteristics and gear change speed for the type of driving he or she is after.
There's ECO mode, which changes instrument lighting to blue and provides the smoothest and most fuel efficient transmission setting.
Next up is a SPORT S mode which sharpens up throttle response and provides the driver with quicker gear changes and even blips the engine on downchanges. The instrument lighting is also changed to red.
If you really want to get vigorous with the GS though, some models with come with a SPORT  S+ mode which will configure a variable suspension and steering gear ratio for optimum sports driving. The Lexus GS's vehicle stability control (VSC) program will also be altered to provide maximum driver interaction.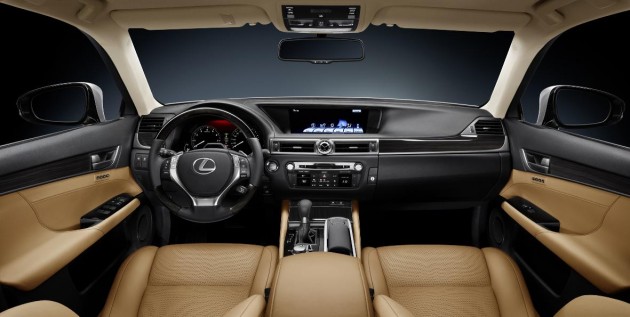 Inside the GS is filled with everything you'd expect from a modern-day Lexus, including a 12.3-inch LCD screen – you read correctly – with DVD, Bluetooth compatibility as well as an eight-inch screen taking place as the instrument cluster behind the steering wheel. There's also plenty of stainless steel-look finishes and a cool James Bond-esque analogue clock in the centre of the dash.
The 2012 Lexus GS will go on sale next year. With official Australian launch details yet to be finalised, more details are expected to be revealed prior to its debut.