The Dubai Police force has added yet another piece of automotive exotica to its fleet, this time in the form of the new BMW i8.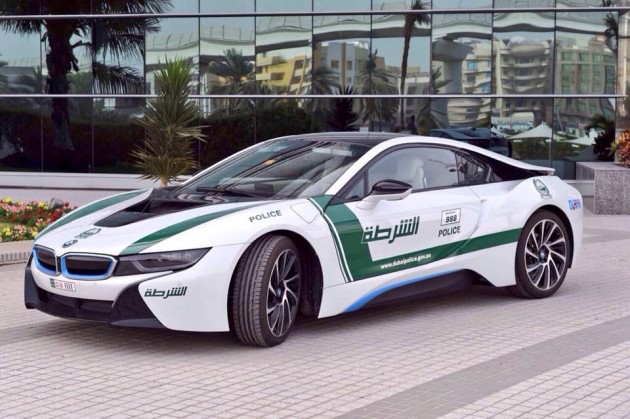 Keen to put an environmentally friendly feather in their cap, the Police force took delivery of the hybrid sports car yesterday, only days after receiving a Rolls-Royce Phantom.
This adds to an already astounding collection of Dubai police cars, comprised of a Bugatti Veyron, Ferrari FF, BMW M6 Gran Coupe, McLaren MP4-12C, Bentley Continental GT, Nissan GTR, Mercedes SLS, SL63 AMG, Audi R8, Aston Martin One-77, Lexus RC-F, and a 13kW Renault Twizzy.
The BMW i8 produces a combined output of 266kW from an electric motor powering the front wheels, and a 1.5-litre, three-cylinder petrol engine powering the rear wheels. It hits 0-100km/h in 4.4 seconds, and maxes out at 250km/h.
Interestingly however the i8, like all the other supercars in the Police force's garage, are purely for PR and not for work on the beat, with the cars placed around various tourist attractions.
The i8 is currently on sale in Australia. Prices start at $299,000. It's only available in one variant level, although there are options to select from.