The 2012 BMW M5 is actually quicker than the company makes out, according to Car and Driver in the US. The magazine has just run some real-world acceleration times and it turns out the most powerful 5 Series is also the quickest accelerating rear-wheel drive production sedan.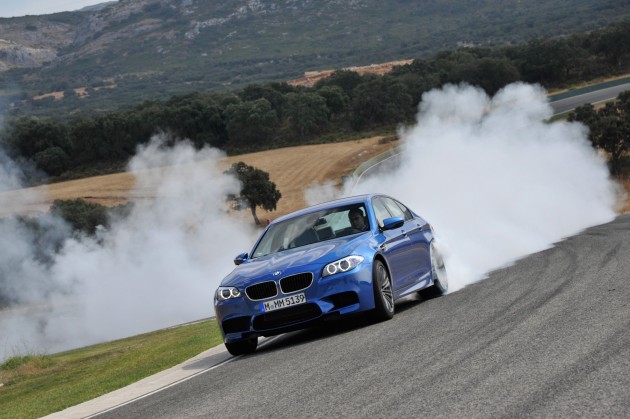 Car and Driver did the 0-60mph test (97km/h) and achieved it in just 3.7 seconds, more than half a second quicker than the factory time of 4.4 seconds. The magazine also tested in from 0-160km/h and it did it in 8.3 seconds.
This makes it quicker than the next-best muscle sedans; the Mercedes-Benz E 63 AMG BITURBO, which does it in 3.8 seconds (with Performance Pack – 5.5-litre twin-turbo V8, 410kW/800Nm) also tested by Car and Driver; and the Cadillac CTS-V, which manages it in 4.3 seconds.
Perhaps the most remarkable figures of the testing is the 2012 BMW M5's quarter mile time of just 12.0 seconds at 196km/h (122mph) – a fast speed for the time (normally around 115mph), indicating some serious grunt only held back by launch and weight (1945kg).
For comparison's sake, the Cadillac CTS-V sedan uses a 6.2-litre supercharged V8 developing 415kW of power and a whopping 747Nm in a vehicle weighing 1930kg. It does the quarter mile in 12.4 seconds at 115mph. BMW is doing okay at getting the power down, it seems the weight is the major hindrance.
We can't wait to see some tuners get hold of the 2012 BMW M5. With 412kW and 680Nm on tap in standard form from the 4.4-litre twin-turbo V8, one would imagine 500kW is just around the corner.