Audi has unveiled the updated version of the R8 LMS GT3 called the 2012 Audi R8 LMS ultra. The 'ultra' version is lighter in weight, more aerodynamic and faster than the current 2011 GT3 race car.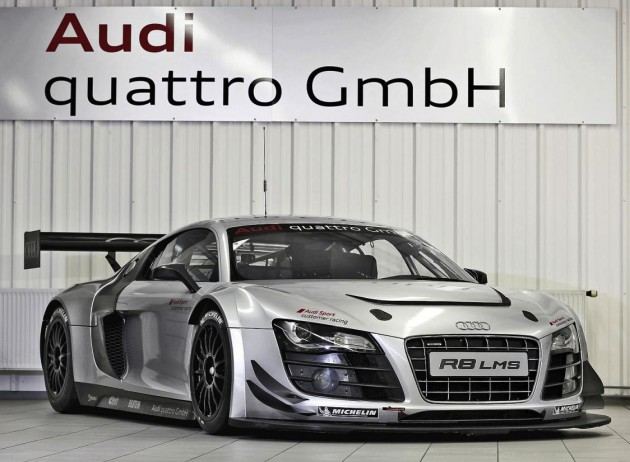 This is the Audi race car that's used in various forms of GT3 racing around the world, including famous endurance events such as the Nurburgring 24 Hours, and the Bathurst 12 Hour where it achieved an overall victory this year.
This update gets carbon fibre doors, a completely revised and more aerodynamic underbody, and various body additions including a wider rear wing with end plates and a louvered bonnet, all of which provide better air flow and downforce.
In the back, there's a 5.2-litre V10 engine developing 419kW (562hp) – based on the production engine – which has been tuned to provide a wider torque band and comes with a new exhaust system. The engine is also backed up by a revised transmission which is said to provide improved longevity for endurance races.
Up front, a new, wider set of 18-inch wheels help give the R8 better grip in the corners and increase lap time consistency. Width has been increased from 11-inch to 12-inch rims, while the brakes sitting behind are given more ducting for better cooling.
Audi is offering the 2012 update kit as a conversion for owners of the 2011 GT3 car. Deliveries of this 2012 Audi R8 LMS ultra will commence in March next year, with prices starting at 329,900 euros (approximately AU$444,759).