Welcome to the all-new 2022 GMC Hummer EV. A Hummer that even the modern Arnie will approve of thanks to a fully-electric powertrain. It's also massive and massively powerful, and promises to be massively capable. Did we mention it's massive?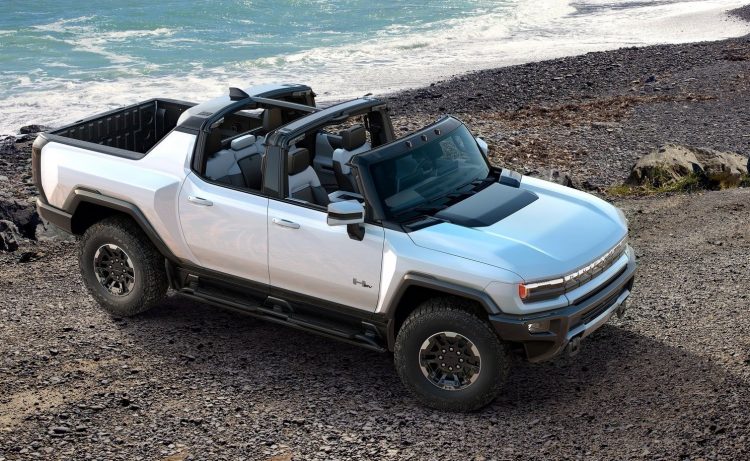 Described as a "supertruck" with "zero limits", the 2022 GMC Hummer EV is an all-new, open-top dual-cab pickup truck. It promises unprecedented capabilities and a bunch of very modern and innovative technologies. It looks set to redefine the meaning of an eco-friendly pickup truck.
Power comes from an "Ultium" battery system that powers three electric motors, with a combined output of 1000hp (746kW). After going through the front and rear gear units, GMC also claims up to 15,592Nm of torque. However, keep in mind wheel torque is different to motor torque. Whatever though, it's a lot.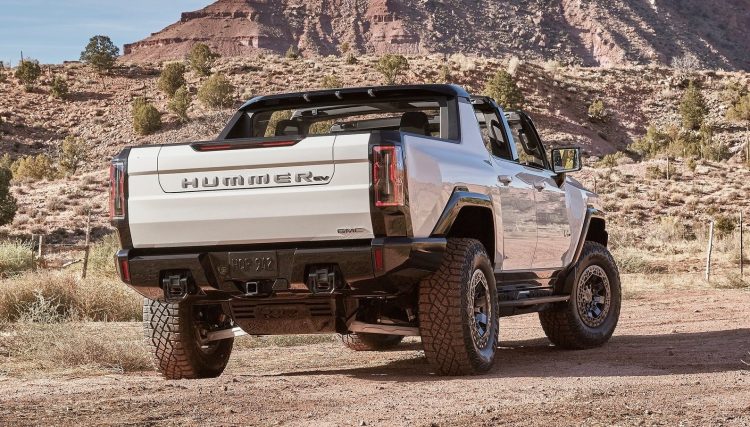 GMC says users will be able to engage in a special 'WTF' acceleration mode to experience the full performance potential of the system. Called Watts to Freedom (what else?), it is designed as a launch control feature, delivering maximum power for short bursts. It even hunkers down the pickup, lowing the ride height by 2.0 inches. In this mode GMC claims 0-60mph (97km/h) comes up in just 3.0 seconds. GMC chief engineer, Al Oppenheiser, said:
"Watts to Freedom unlocks the full potential of the propulsion system and puts all of its available power to the pavement. It's an all-encompassing experience unlike anything else – purpose-built for straight-line fun."
Aside from the mind-bending speed and power, the new Hummer is still a Hummer at heart. A range of helpful off-road features will be available, including an Extreme Off-Road Package that includes adaptive air suspension with Extract Mode capability, four-wheel steering with a CrabWalk function, and 35-inch mud-terrain tyres. There's also underbody armour, rock sliders, and even underbody cameras in the mix.
A lot of thought has gone into the interior. There are no conventional carpets. Instead, GMC has installed a versatile vinyl floor so it's easy to clean. Special rubber mats made from recycled materials are also used, along with pull-out sections for each passenger position. A dual-level floor console provides storage, and of course there is loads of space for five passengers.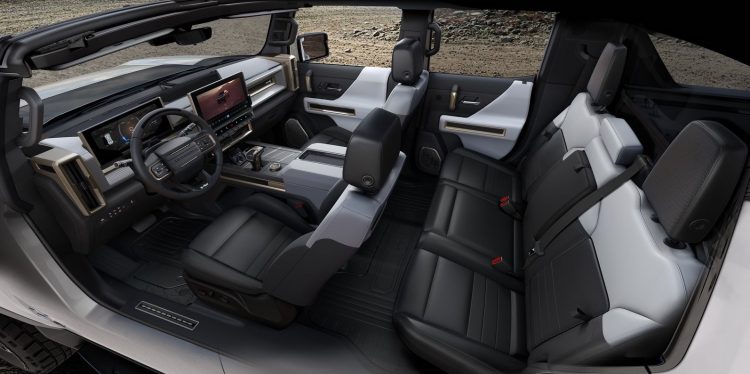 Up on the dash is a 13.4-inch touch-screen media interface. It's connected to a premium 14-speaker Bose sound system. A 12.3-inch digital screen rests in front of the driver for the instrument cluster, and a unique 'H' design layout is applied for the central air vent area.
GMC will produce the big truck at GM's Factory ZERO in Detroit, starting late in 2021. Sales will commence during the third quarter of next year, with prices starting from US$112,595.