California-based upstart Faraday Future has pulled the sheets off its all-electric FZERO1 concept racer, two full days ahead of its Consumer Electronics Show debut at Las Vegas.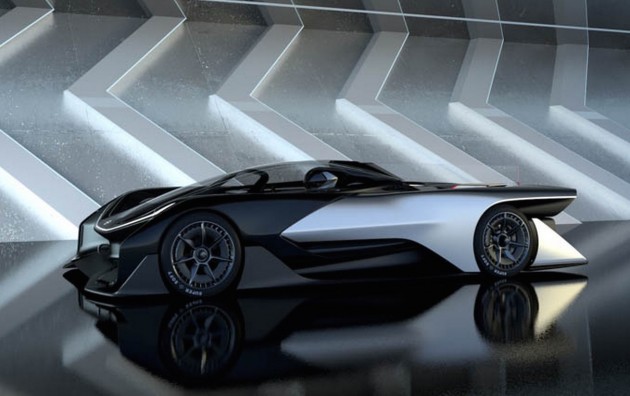 The FZERO1 could be the next stage in supercar evolution, with four 'quad core' electric motors, totalling 736kW (1000PS), and a futuristic carbon fibre body with an air tunnel running underneath to cool the battery pack. There's also a bubble-top canopy promising excellent visibility for the single occupant. A central fin extends to the rear of the car.
Inside, the driver is set at a 45-degree angle for optimum comfort, with provisions for oxygen and water tubes for a racing helmet showing racing intent. Augmented reality functions are displayed on the windscreen, with provisions for autonomy, but the exciting part is what's underneath the FZERO1.
The Variable Platform Architecture is part of the 750-strong upstart's plans to develop a range of vehicles off a super-flexible platform. Key features include a new, modular method of battery storage in strings, front-, rear-, or all-wheel drive capability, as well as the capability for a range-extender engine giving the company potential to offer something Tesla doesn't.
But the company is not necessarily gunning for Tesla, with R&D leader Nick Sampson acknowledging Tesla has paved the way by bringing 'start-up thinking' to the industry. Sampson said:
"You don't need to have a 100-year legacy in the automotive industry to define what the next generation of mobility needs to look and feel like".
A unique business model is expected to be adopted, where cars will be leased directly from the company. The company plans to expand its employee base to over 4000, and the FZERO1 is a taste of elements we can expect to see in its future vehicles. Check these videos out below for a virtual tour of the FZERO1.
https://youtu.be/O4VtHrFxxbc