Various updates have been announced for the entire Volkswagen range in Australia, as part of the 2016 model year roll out.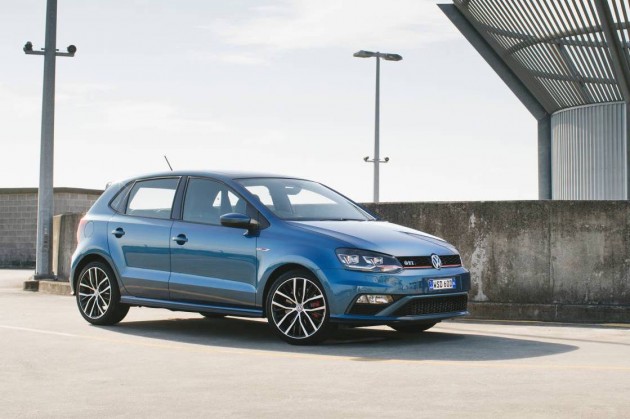 Most models, from the Polo, Golf, Jetta and Tiguan, gain a rear-view camera as standard, as well as an updated user interface now incorporating App-Connect USB technology with Apple CarPlay, Android Auto, and MirrorLink compatibility.
Other highlight changes include a new 6.5-inch touch-screen interface for the Polo 66TSI and 81TSI, Sport Select suspension for the Polo GTI, a 6.5-inch interface for the Golf 92TSI and a power hike of 2kW (from 90kW), and the new 6.5-inch screen for the Golf GTI and Golf R.
The Volkswagen Beetle and Scriocco R also gain the App-Connect system with CarPlay and Android Auto technology, while a new Golf Trendline variant has been introduced, equipped with 15-inch alloy wheels and auto headlights and wipers. Volkswagen Group Australia managing director, John White, said,
"Volkswagen has always stood for quality, innovation and value, and never has this been more true in the company's history in Australia than with the arrival of our new model year vehicles."
There have been some pricing changes, with the Polo range differing from cuts of $100 to $500 increases, the Golf from -$200 to +$700, the Golf GT dropping by $2000 to $1000, while the Beetle is $600 more and the Jetta Trendline has jumped $200. For all MY16 changes, see below:
POLO
Polo 66TSI Trendline
Additional features over and above the MY15 Polo 66TSI Trendline
Composition Media 6.5-inch (replaces Composition Colour 5.0-inch) high resolution touch screen display
App-Connect USB interface for Apple CarPlay, Android Auto and MirrorLink
Rear View Camera (RVC)
Polo 81TSI Comfortline
Additional features over and above the MY15 Polo 81TSI Comfortline
Composition Media 6.5-inch (replaces Composition Colour 5.0-inch) high resolution touch screen display
App-Connect USB interface for Apple CarPlay, Android Auto and MirrorLink
Rear View Camera (RVC)
Polo GTI
Additional features over and above the MY15 Polo GTI
Sport Select suspension (electronically adjustable dampers) Including sportier tuning of a range of parameters (such as steering, sound actuator and accelerator response) by pushing the Sport button
App-Connect USB interface for Apple CarPlay, Android Auto and MirrorLink
Rear View Camera (RVC)
Options
The optional driving comfort package (Comfortline) now includes Discover Media satellite navigation. The Rear View Camera (RVC) has been removed from the package as it is now standard equipment
The Rear View Camera (RVC) has been removed from the optional driver assistance package (GTI) as it is now standard equipment
GOLF AND GOLF WAGON
Golf 92TSI
Additional features over and above the MY15 Golf 90TSI
1.4 litre TSI engine with 92kW of power (+2kW) and 200Nm of torque
Composition Media 6.5-inch (replaces 5.8-inch) high resolution touch screen display
App-Connect USB interface for Apple CarPlay, Android Auto and MirrorLink
Rear View Camera (RVC)
Please note: The entry Golf Wagon has been discontinued
Golf and Golf Wagon 92TSI Trendline
NEW MODEL: Additional features over and above the MY16 Golf 92TSI
15-inch Lyon alloy wheels (4)
Parking distance sensors, front and rear with Optical Parking System (OPS)
Rain sensing windscreen wipers
Automatic headlight function
Automatically dimming interior rear-view mirror
Golf and Golf Wagon 92TSI Comfortline
Additional features over and above the MY15 Golf 90TSI Comfortline
1.4 litre TSI engine with 92kW of power (+2kW) and 200Nm of torque
Discover Media satellite navigation system with 6.5-inch high resolution touch screen display
App-Connect USB interface for Apple CarPlay, Android Auto and MirrorLink
Please note: The Golf 90TSI Comfortline manual has been discontinued
Golf and Golf Wagon 110TSI Highline
Additional features over and above the MY15 Golf 103TSI Highline
1.4 litre TSI engine with 110kW of power (+7kW) and 250Nm of torque
Discover Media satellite navigation system with 6.5-inch (replaces 5.8") high resolution touch screen display
App-Connect USB interface for Apple CarPlay, Android Auto and MirrorLink
Vienna leather appointed upholstery with heated front seats
Keyless Access, keyless entry and starting system
Golf and Golf Wagon 110TDI Highline
Additional features over and above the MY15 Golf 110TDI Highline
Discover Media satellite navigation system with 6.5-inch (replaces 5.8-inch) high resolution touch screen display
App-Connect USB interface for Apple CarPlay, Android Auto and MirrorLink
Vienna leather appointed upholstery with heated front seats
Keyless Access, keyless entry and starting system
Golf GTI
Additional features over and above the MY15 Golf GTI
Discover Media satellite navigation system with 6.5-inch (replaces 5.8-inch) high resolution touch screen display
App-Connect USB interface for Apple CarPlay, Android Auto and MirrorLink
Bi-Xenon headlights with LED daytime driving lights
Keyless Access, keyless entry and starting system
Golf GTI Performance
Additional features over and above the MY15 Golf GTI Performance
Discover Media satellite navigation system with 6.5-inch (replaces 5.8-inch) high resolution touch screen display
App-Connect USB interface for Apple CarPlay, Android Auto and MirrorLink
Keyless Access, keyless entry and starting system
Golf R
Additional features over and above the MY15 Golf R
Discover Media satellite navigation system with 6.5-inch (replaces 5.8-inch) high resolution touch screen display
App-Connect USB interface for Apple CarPlay, Android Auto and MirrorLink
Vienna leather appointed upholstery with heated front seats
BEETLE
Introduction of App-Connect USB interface integrating Apple CarPlay, Android Auto and MirrorLink as standard equipment
The Rear View Camera (RVC) with static guidance lines is now standard equipment
Options
Discover Media satellite navigation is now available as an individual option
The Blue Silk Metallic paint has been introduced
SCIROCCO R
Introduction of new generation Discover Media infotainment system to replace the RNS510 satellite navigation system
Introduction of App-Connect USB interface integrating Apple CarPlay, Android Auto and MirrorLink as standard equipment
JETTA
Jetta 118TSI Trendline
Additional features over and above the MY15 Jetta 118TSI Trendline
Composition Media 6.5-inch (replaces RCD310) high resolution touch screen display
App-Connect USB interface for Apple CarPlay, Android Auto and MirrorLink
Rear View Camera (RVC) with static guidance lines
Jetta Comfortline, Highline and Highline Sport models
Additional features over and above the respective MY15 Jetta models
Introduction of new generation Discover Media infotainment system to replace the RNS510 satellite navigation system
Introduction of App-Connect USB interface integrating Apple CarPlay, Android Auto and MirrorLink as standard equipment
Options
The new Ruby Red Metallic paint has been introduced
TIGUAN
Tiguan 118TSI, 132TSI and 130TDI
Additional features over and above the respective MY15 Tiguan models
Composition Media 6.5-inch (replaces RCD510) high resolution touch screen display
App-Connect USB interface for Apple CarPlay, Android Auto and MirrorLink
Tiguan 155TSI R-Line
Additional features over and above the MY15 Tiguan 155TSI R-Line
Introduction of new generation Discover Media infotainment system to replace the RNS510 satellite navigation system
Introduction of App-Connect USB interface integrating Apple CarPlay, Android Auto and MirrorLink as standard equipment
Options
Discover Media satellite navigation system is now available as an option for 132TSI and 130TDI models (replacing the RNS510 option)