The Australian VFACTS vehicle sales figures for December 2015 have been released, but before we go into the detailed report we thought we'd go over the top 10 best-selling vehicles of the year.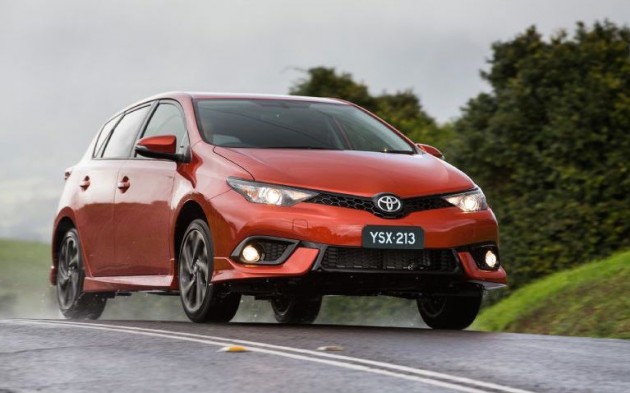 Sitting in number one place is the Toyota Corolla. It has been battling with the Mazda3 and Toyota HiLux all year, but the humble hatch ended up posting almost 3500 more sales than the second-place-sitting Mazda3.
Corolla sales are down 3.8 per cent compared with 2014 yearly sales, while the Mazda3 saw a drop of 10.8 per cent compared with 2014 efforts. Both vehicles also experienced drops in sales for December specifically, down 2.2 per cent for the Toyota and 9.4 per cent for the Mazda.
In third place is the trusty Toyota HiLux 4×2 and 4×4 ute. Despite drops in sales compared with year-to-date and December figures in 2014, the HiLux easily outsold its nearest competitor, the Ford Ranger, with 35,161 sales versus 29,185 for the runner up Ranger.
Sitting in fourth place is the Hyundai i30. It reported a 2.5 per cent increase in sales compared with 2014 overall figures. This left the Ford Ranger with fifth place overall.
Holden fans should be proud to see the Commodore done reasonably well in 2015, posting 27,770 sales for the year. The figure is down 8.1 per cent on 2014, but for December sales are up a whopping 30.5 per cent. Its main rival, the Ford Falcon, is nowhere to be seen in the top 10 best-sellers list, recording just 5938 sales, down 6.5 per cent year-to-date.
Some surprises in the top 10 include the Mazda CX-5, Mitsubishi Triton, and Volkswagen Golf. It's easy to see utes are fast-becoming not only the choice for tradies, but also for families. See below for the top 10 best-selling vehicles in Australia during 2015.
1. Toyota Corolla – 42,073 (down from 43,735 during 2014)
2. Mazda3 – 38,644 (down from 43,313)
3. Toyota HiLux – 35,161 (down from 38,126)
4. Hyundai i30 – 32,306 (up from 31,505)
5. Ford Ranger – 29,185 (up from 26,619)
6. Holden Commodore – 27,770 (down from 30,203)
7. Toyota Camry – 27,654 (up from 22,044)
8. Mitsubishi Triton – 25,338 (up from 24,256)
9. Mazda CX-5 – 25,136 (up from 21,571)
10. Volkswagen Golf – 22,092 (up from 19,178)