Imagine if Kia made a high-performance 'GT' version of its fantastic new Seltos small SUV. Some renderings of what such a model could look like have hit the 'net to give our imaginations a hand.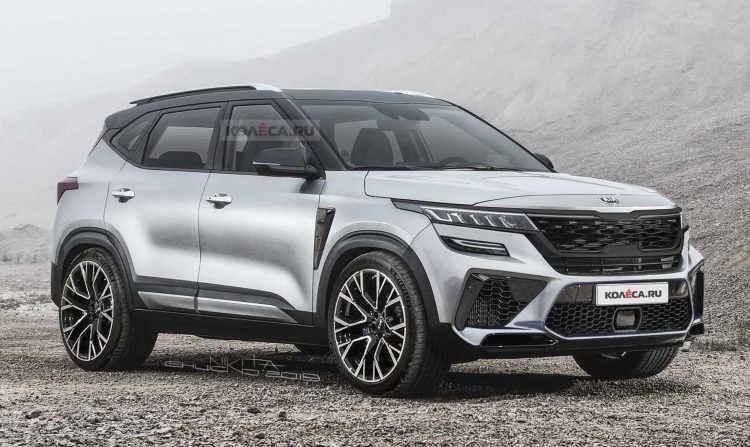 The renderings, by Kolesa.ru, depict a performance variant of the Seltos, with various bespoke enhancements similar to those on the Stinger GT. At the front you've got a nicely-sculpted spoiler system with aggressive side intakes, black mesh for the big front grille, and separated headlights leaving slim LED rows.
Along the sides you might notice the neat little vents behind the front wheels, similar to the vents on the Stinger GT. There's also some black sill panels with silver trimmings, while the rear end incorporates a chunky diffuser system with integrated quad-outlet exhausts. It all looks really cool in our opinion, and actually quite realistic.
Although these are only imaginative renderings with no official plans from Kia for a production version, we wouldn't be surprised if Kia does introduce a GT version further down the track. In our view, there are two reasons why Kia might want to go down this route.
The first is because Kia has found reasonable success with GT variants, recently introducing the excellent Picanto GT with a 1.0L turbo, and the brilliant Cerato GT with a 1.6 turbo. It has even launched the Rio GT-Line, which is just about a GT. There's also of course the Stinger GT.
Another reason is because small SUVs are a booming segment at the moment. With more and more buyers migrating from small hatchbacks and sedans into these practical jumped-up wagons, one would think more variants in this department could only do wonders for the carmaker's balance books.
Over at sister brand Hyundai, there are reports of many more N performance models being in the pipeline. As far as we know the next on the agenda will be an i20 N of some kind, followed by a Kona N and Tucson N. However, while Hyundai and Kia do share platforms and some powertrains for various vehicles, Kia doesn't seem to have access to anything the N division does. Instead, Kia applies its GT philosophy which isn't quite as hardcore as N.
What do you think though? Should Kia introduce a GT version of the Seltos, perhaps with the recently-updated 150kW/275Nm 1.6 turbo engine?