If you're in the market for a luxury four-door coupe but you don't want to break the bank just to acquire one, the 2015 Kia Optima Platinum could be just the product you're looking for.
This is currently the top-shelf passenger car the brand makes for Australian customers. It is the mantle piece for which all of Kia's prized designs and luxuries come together, and dangling from it is a price tag of just $40,990. So, should you buy one?
All Optima models (in Australia) come with a 2.4-litre naturally aspirated four-cylinder petrol engine producing 148kW and 250Nm. This is paired to a six-speed auto with front-wheel drive. The 'Theta II' motor has been around now since 2011 in virtually the same form – and traces back to 2006 in varied form – but there is no major hindrance in power by today's $40k standards.
Like a luxury car ought to be, the Optima's cabin is welcoming and vast. The dash area and centre console in particular are very tidy, with no confusing shapes or controls interrupting your effort to relax. And that's one of the best traits of this car; its ease of use and total fuss-free character. It is one of those cars that you can simply jump in and drive, and not feel overwhelmed by.
You would have to be pretty darn tall to head-butt the ceiling in the front, and even width-wise the seats are impressively accommodating. The same can be said for the rear seats. There's heaps of room in the back. Kia's in-car engineers have placed clever cutaways in the ceiling for the taller passengers, and legroom is plentiful.
Kia might have been known for making cheap and sometimes nasty vehicles in the past. But now, it's known for offering incredible value and packaging. With the Platinum you do get a lot for your money. Ventilated front seats (heated and cooled), leather, a premium eight-speaker sound system and sub-woofer, sat-nav, and a modern touch-screen interface are all part of the standard kit.
Power adjustable front seats are also standard, as are auto wipers and headlights, a cooled glove box, and front and rear parking sensors with a rear-view camera. Sure, some of the European rivals, such as the Volkswagen Passat-based CC for example, are offered with more technology, like advanced radar cruise control and adaptive dampers, but they are typically priced around $20k north of this.
Cabin quality and fit and finish has definitely been moved up for Kia vehicles in recent years. For the Optima, the in-car design is modern and in touch with contemporary trends. Some of the plastics do feel a bit tacky and the fake wood trim is suspect, but the sporty three-spoke steering wheel feels nice to grasp and all of the joins and fixtures seem to come together with a pleasing level of consistency.
The Optima adopts the fashionable four-door coupe layout, although, that doesn't mean it can't be used as a family car. This is just as practical as your average mid-size four-door sedan (Camry, Mazda6, Mondeo). In fact, with a 505-litre boot capacity, it actually overshadows the Mazda6 (474L) and Subaru Liberty sedan (493L) for storage.
Lastly but not by any means least importantly, a luxury car needs to be nice to drive. It needs to be relaxing, smooth, with a hint of get-up-and-go for when you need to overtake those pesky P-platers. Driving the Optima, there is a clear indication that this car was developed for comfort and everyday driveability.
Ride quality is on the softer side as opposed to the sporty side – either a good thing or a bad thing, depending on your preference. The platform glides well on the freeway, with mostly gentle suspension movements, and then in the city and on rougher roads it soaks up bumps and recesses with decent composure.
When the time comes to swivel around some mountain bends, the Optima performs at a reasonable level. We're not going to say it's a sports car, as it isn't one, but there is some clumsiness to the steering and quite a lot of torque-steer at anything more than 50 per cent throttle. The platform itself hangs on and leans around corners with good balance, however, it doesn't like changing direction swiftly as the chassis and suspension tend to take a moment to catch up.
In between the corners the 2.4 engine serves up adequate shove. The six-speed auto doesn't really do the engine justice for performance as it seems to focus only on economy, but for the daily errands the combination delivers well. We timed 0-100km/h in 9.2 seconds and returned an average fuel consumption of 9.6L/100km. Off the mark the car lurches suddenly but then a weak mid-range, with a fairly low torque figure (250Nm), dampens its higher end ability.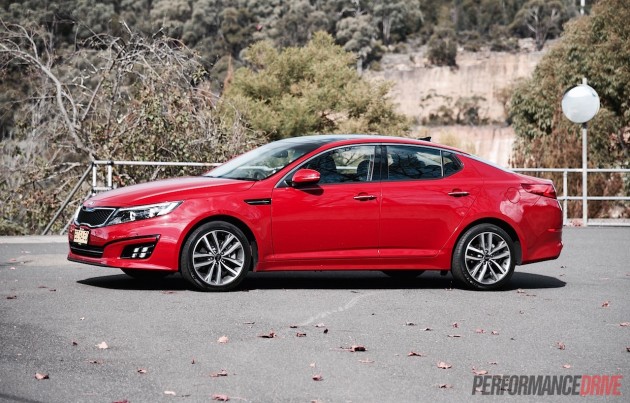 Back to the original question then. Should you buy one? We think it is a bargain. It is the most affordable four-door coupe on the market yet it still looks quite prestigious and premium. There's plenty of goodies inside, and you can relish in Kia's industry-leading seven-year warranty.
It might not be as refined or as sporty as the Euro rivals, but you do get a lot of car for your money. You can also take into account the base model Si Optima starts from just $31,490, and it looks pretty much the same only with fewer luxuries.
2015 Kia Optima Platinum – THE SPECS
Engine: 2.4-litre four-cylinder
Output: 148kW@6300rpm / 250Nm@4250rpm
Transmission: Six-speed auto
Drive type: Front-wheel drive
Wheels: F: 18×7.5, 225/45  R: 18×7.5, 225/45
ANCAP: Five stars (scored 35.58 out of 37)
Kerb weight: 1591kg
Power-to-weight: 10.75:1 (kg:kW)
Official fuel economy: 7.9L/100km
Economy during test: 9.6L/100km
Fuel capacity/Type: 70L/91 RON
Power efficiency: 18.7kW:L/100km
0-100km/h as tested: 9.2 seconds
Priced from: $40,990
2015 Kia Optima Platinum – THE VIDEO