Nissan is planning to drop the Pathfinder Hybrid from the US lineup from MY2016 onwards amid dwindling sales, as customers return to traditionally-powered trucks and large SUVs.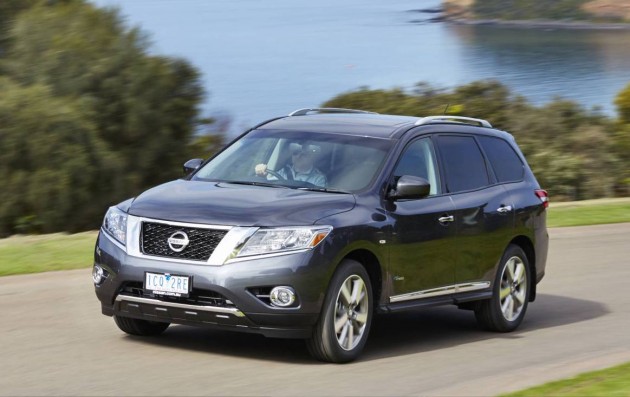 The news stems from an Automotive News report that says the Pathfinder Hybrid will not return for a 2016 model year refresh. It's understood a decision is being made to cut the model due to low sales, said to be caused by falling petrol prices in the market. Nissan spokesman Dan Bedore said in the report,
"The hybrid was never a big part of Pathfinder sales. Our emphasis has been on the traditionally powered Pathfinder, which is really the heart of the market for that segment."
In Australia, the Pathfinder is offered with two different powertrain options, including the familiar 3.5-litre naturally aspirated petrol V6 that has powered various Nissans and Infiniti models over the years, and a hybrid version – there is no diesel option.
The hybrid uses a 2.5-litre supercharged four-cylinder engine matched to an electric motor system generating 15kW. Combined output is 188kW and 330Nm. Compared with the 3.5-litre V6, which produces 190kW and 325Nm, the hybrid is (at least according to ADR tests) the more fuel efficient option.
Both the hybrid and 3.5 V6 are available in front-wheel drive and on-demand all-wheel drive. The hybrid fuel economy average spans from 8.4L/100km for the FWD to 8.5L/100km for the AWD. The V6 economy ranges from 9.9L/100km to 10.2L/100km, respectively. However, going for the hybrid option, available for most variants, adds $3000 to the retail price.
PerformanceDrive contacted Nissan Australia to ask about the future of the Pathfinder Hybrid in the local market. Chris Jordan, Nissan Australia corporate communications supervisor, said the model will continue to be made for and sold in Australia. He said there is no change here.
Pathfinder sales in Australia are on the rise, with the company reporting 2261 sales so far this year (through May). This is up 33.6 per cent on last year's effort, when 1692 were sold in the same period.