The 2014 Lexus IS is well into the development stages, and is getting ready to take on the likes of the new BMW 3 Series.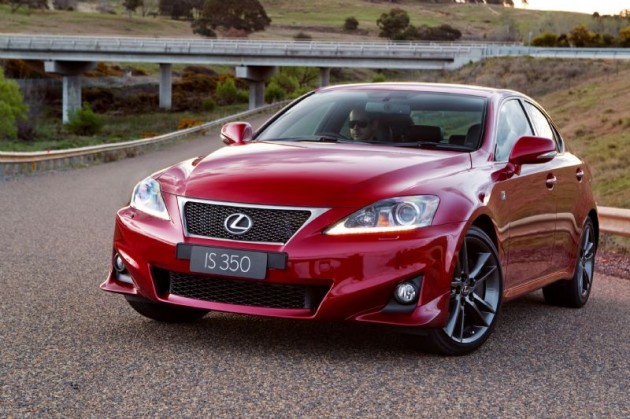 The current generation Lexus IS 250 has been around now since 2005, with the 350 model joining the local lineup in 2010. Last month, 210 Lexus IS 250 and IS 350 models were sold, compared to the BMW 3 Series (342), and the class-leading Mercedes-Benz C-Class (630). The sedan is regarded for its intelligent personality, sporty looks, and prestigious cache.
The other key element to the IS range is that it's a sporty mid-sized luxury sedan, providing a direct alternative to the BMW 3 Series and Mercedes-Benz C-Class. For the new 2014 Lexus IS, that personality is set to be even more inclined to sportiness, providing sturdier competition in the market.
It's understood Lexus is developing the 2014 Lexus IS to be more direct, and sharper than the current model. It's also set to take some interior design inspiration from the techno-infused Lexus LFA.
According to Lexus product planner for the ES and LS in the US, Ketan Renade, the company has realised the new model needs to be more focused, and more ready to take on the likes of the new BMW 3 Series. He said in a recent Autoguide report, "I have driven an early prototype and it's amazing".
Renade said that Lexus is in the position to develop the IS as more of a sporty sedan rather than a comfortable, luxurious model. "On the IS we realised it needs to be more focused", saying that it "doesn't have to play a comfort role for us". For this, the company has the new ES range (not sold in Australia).
Although specific details are yet to be finalised, it has been confirmed the 2014 IS will be offered in a sports variant, likely a modern interpretation of the current F Sport. Further up the lineup ranking is expected to sit a new Lexus IS F as well, however, in the report Renade withheld from revealing any concrete confirmation.
A new IS F would be likely though, and a critical new model if Lexus wants to be taken as a serious competitor to the performance 3 Series and C-Class models.
Styling-wise, the new IS is expected to showcase the latest Lexus design language, with a sharp new face and spindle grille layout. At the back is also likely to feature an elegant yet aggressive poise.
The new model isn't set to appear until late 2013.