The slick new Lexus LS flagship sedan has touched down in Australia, debuting the company's first twin-turbo V6 engine and a host of innovative and exquisite luxuries.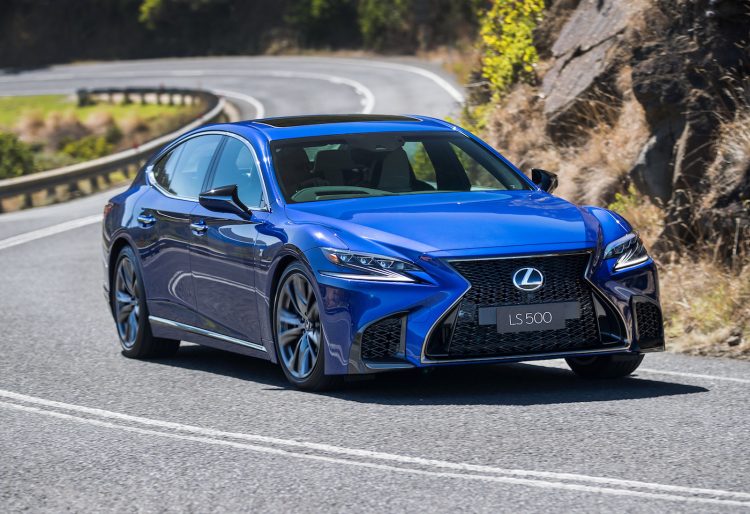 Lexus Australia is launching two main trim levels for two main variants; the LS 500 and the LS 500h, available in F Sport and Sports Luxury trim. Both are underpinned by the new GA-L platform that debuted with the stunning LS coupe last year. This layout falls under the Toyota New Global Architecture philosophy, promising a spacious interior and perfect front-to-rear weight balance, with a low centre of gravity.
Under the bonnet, the LS 500 is powered by an all-new 3.5-litre twin-turbo V6 petrol engine that develops 310kW, while the LS 500h uses a naturally aspirated V6 and electric battery system for an output of 264kW. The hybrid uses a CVT but the LS 500 twin-turbo comes connected to Lexus's first 10-speed automatic.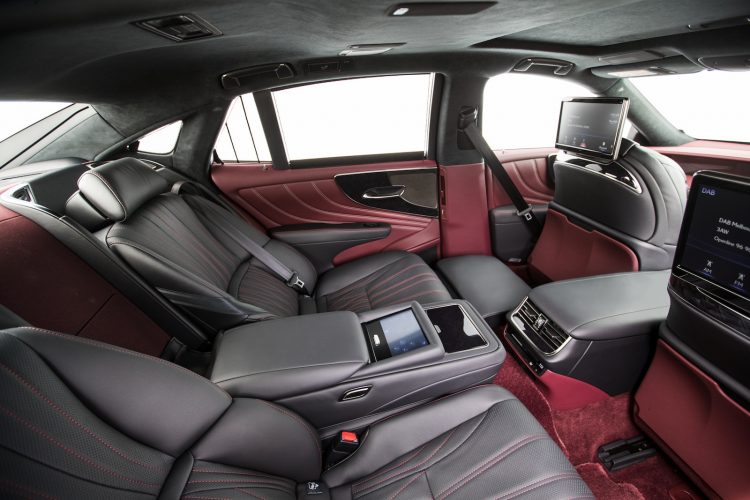 Standard tech inside includes everything from a 12.3-inch multimedia screen, to the largest head-up display in the segment, as well as a cranking 23-speaker Mark Levison sound system. Going for the F Sport gets you sporty seats and various F Sport logos, while the Sports Luxury gets four-zone climate control, 22-way power rear seats with a passenger-side ottoman and massage functions, as detailed in a previous report.
As a special treat, Lexus is offering a range of bespoke hand-crafted interior ornamentation options for the Sports Luxury. Eight different packages are available, including Crimson Fire with hand-pleating and kiriko glass, or chestnut with laser-cut ornamentation, among others. These command a $9880 premium. Speaking about the new model, Lexus Australia chief executive Scott Thompson said:
"With multiple world and Lexus firsts, it breaks new ground in design, technology and performance. More than any other model, the LS embodies the history and image of Lexus and serves as a symbol for everything the brands represents – a luxury lifestyle brand that offers amazing experiences. This human touch gives the Lexus brand its soul and sets it apart from our competitors."
The new model is on sale now from the following prices, with option prices listed further below (excludes on-road costs):
2018 Lexus LS 500 F Sport – $190,500
2018 Lexus LS 500h F Sport – $190,500
2018 Lexus LS 500 Sports Luxury – $195,500
2018 Lexus LS 500h Sports Luxury – $195,500
Sports Luxury Trim/ornamentation options (no extra charge):
Sports Luxury Moon White trim with Walnut ornamentation
Sports Luxury Moon White trim with Crafted Latte ornamentation
Black trim with Crafted Latte ornamentation
Crimson Fire trim and Herringbone ornamentation
Trim/ornamentation options ($9880 premium):
Black with hand-pleating and kiriko glass
Crimson Fire with hand-pleating and kiriko glass
Chestnut with Redgrain ornamentation
Chestnut with laser-cut ornamentation
F Sport
Trim/ornamentation options:
F Sport Moon White trim with Naguri-style Aluminium ornamentation
F Sport Black trim with Naguri-style Aluminium ornamentation
Flare Red trim with Naguri-style Aluminium ornamentation