Johanna Quandt, the third wife and one-time secretary of Herbert Quandt, died last Monday at her home in Bad Homburg, Germany. She was 89 years old. No reason has been provided from Johanna Quandt Foundation.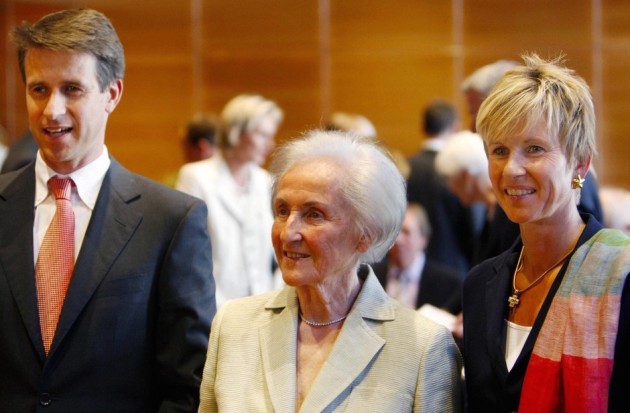 Her husband Herbert Quandt turned Germany's BMW AG into the largest luxury automotive manufacturer in the world. After his death in 1982, Johanna inherited a 16.7 percent stake in Munich-based BMW. Additionally, she owned a stake in Datacard Group, and held shares in Gemalto.
BMW sales topped 80.4 billion euros in 2014, including brands BMW, MINI and Rolls-Royce. Johanna and her two children (Susanne and Stefan, pictured) control a combined 46.8 percent of the company, but her death will not affect the family's stake or control in the automaker, spokesman Joerg Appelhans said. Her net worth of $11.5 billion makes her the 98th richest person on the Bloomberg Billionaires Index, and eighth richest within Germany.
Johanna Bruhn was born on 21 June 1926 in Berlin, Germany. Her parents were art historians. She studied in Potsdam and Berlin, then later she started an apprenticeship in medical technology, however the war interrupted her training. Her first job was a secretary of a banker in Cologne before working at Herbert Quandt's office in the mid-1950s in Bad Homburg, a neighboring town of Frankfurt.
Johanna Bruhn became Herbert's personal assistant within a few years and gradually became more and more involved in his business operations. They married in 1960 and had two children.
In 1959, BMW was almost bankrupt, but Herbert boosted his stake to 50 percent after being persuaded by his employees and other smaller stakeholders. This effectively put a stop to a takeover attempt by Daimler. He then turned the company around by launching new models such as the BMW 1500 sports sedan. The rescue plan saved the company.
Johanna was awarded the Order of Merit of the Federal Republic of Germany in August 2009 due to her ongoing charity and foundation work in health care and research.