Tesla has been spotted test driving a prototype version of the upcoming Model X, which will be the company's first SUV and one of the first fully electric SUVs on the market.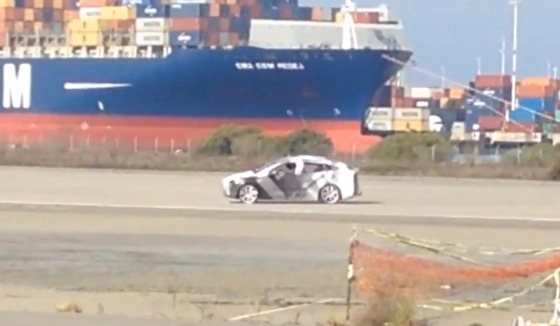 The prototype is seen here undergoing various testing manoeuvres on a makeshift proving ground, said to be an old army base. You can see some acceleration moves and then some handling work around a circle to see how well it generates lateral g-force.
In terms of specifics on the SUV, no further details have been revealed at this stage. It will be a seven-seat SUV though and Tesla has confirmed it will come electric powertrains similar to what's offered with the Model S.
The base model will come with a 60kWh battery with dual motors for all-wheel drive, producing 280kW, while the top-spec 'Performance' version will come equipped with an 85kWh system producing 508kW. This latter setup should enable the Model X to get very close to the record-breaking Model S P85D sedan which is capable of 0-100km/h in 3.4 seconds.
On its website, the company says the Model X is designed fresh from the ground up, offering the space and functionality of a large SUV with the performance of an electric car. It's set to hit the market in 2016. Click play below for a preview.