The new Ford Everest Concept SUV has been revealed, created by the Ford Australia design and product development teams. It envisages a global seven-seat SUV, based on the Ford Ranger ute.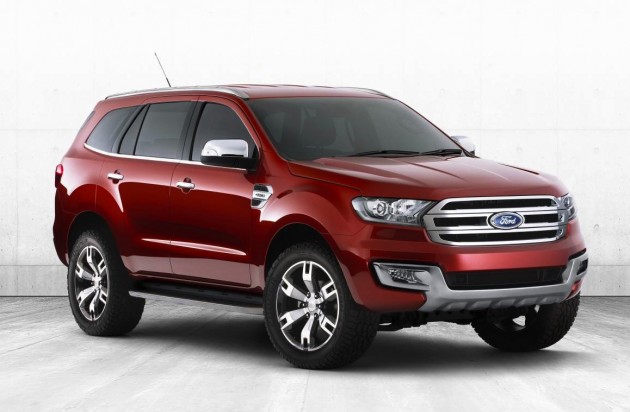 Even though Ford Australia operations will close in a few years, the company will live on locally and a number of new vehicles are being planned. At a 'Go Further' event in Sydney earlier this week, Ford Australia announced a full family of 11 global passenger, SUV, and commercial vehicles will arrive by 2017.
Vehicles include the new Mondeo, which will go on sale next year, the EcoSport compact SUV later this year, and of course the new Falcon next year. Ford will also introduce the Mustang muscle car to local shores when the next-generation version arrives some time in 2015-2016.
As for the Everest Concept, it's based on the Ranger ute featuring an all-new body design which encapsulates the very latest design philosophy of the Ford brand.
Ford says the concept not only provides purposeful ground clearance and off-road suitability, but also a fun-to-drive character in line with Ford's DNA. Mark Fields, Ford Motor Company chief operating officer, spoke about the concept, saying,
"This is our vision for a large, seven-seat off-road SUV to allow our customers to take on the world and it was created by our world-class design team here in Australia.

"We believe our customers will love the distinctive design, which clearly showcases the Ford Everest Concept's exceptional off-road capability and toughness."
It's understood the production version of the Everest will go on sale sale around the world, including in Australia, some time in 2016.
The Ford Ranger's 3.2-litre turbo-diesel five-cylinder engine will apparently be one of the engines on offer for the large SUV. In the Ranger, the five-cylinder offers 147kW and 470Nm.