You know you're approaching a digitised world when the car you drive isn't named after an animal, or a fancy made-up word, but instead a numerical value in relation to its software version. Welcome to the Tesla Model S 90D… 7.1.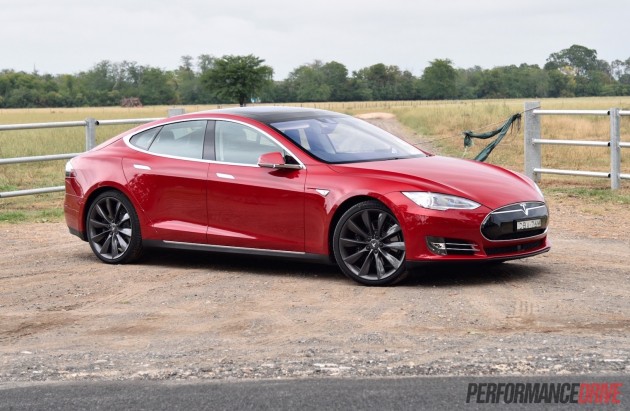 The Tesla Model S lineup can be a little confusing, with all the numbers and letters and so forth. Essentially the number refers to the kilowatt-hour rating for the battery (think of it as like the blend of an engine capacity and fuel pump capacity), and the D stands for dual motor (AWD). If there's a letter 'P' in front of it, it means it's the performance-focused version of that battery capacity.
Here we're testing the 90D which uses a 90kWh battery with twin 193kW motors (one at each axle). At this stage this is the largest battery system Tesla offers for the Model S, offering a potential maximum range of around 550km (depending on how you drive it). This isn't the Ferrari-hunting P90D which we tested late last year, but it still offers seriously exhilarating acceleration and the usual no-petrol motoring Tesla vehicles are renowned for.
Prices start at $158,088 for the 90D. It's then $197,738 for the performance 'P' version, and an additional $19,500 for the famous Ludicrous Speed drive mode (only available with P models). With that mode engaged it becomes the quickest-accelerating production sedan in the world (0-100km/h in 3.0 seconds). This is all excluding on-road costs and any government incentives. As you can see, saving the environment doesn't come cheap, at least initially.
2016 Tesla Model S 90D – THE SPECS
Engine: Twin electric motors
Output: 193kW x 2 (311kW max), 660Nm
Transmission: Single-speed auto
Drive type: All-wheel drive
Wheels: F: 19×8.0, 245/45  R: 19×8.0, 245/45 (standard, optional 21s tested)
ANCAP: Five stars (scored 35.45 out of 37)
Tare weight: 2109kg
Power-to-weight: 6.78:1 (kg:kW)
Official fuel economy: 0L/100km
Economy during test: 0L/100km
Fuel capacity/Type: N/A
Power efficiency: N/A
0-60km/h: 2.36 seconds
0-100km/h: 4.60 seconds
1/8 mile: 8.49 seconds at 140.3km/h
1/4 mile: 13.15 seconds at 170.9km/h
100-0km/h braking: 2.85 seconds at 37.35 metres
Decibel at /in Park: 23.3
Peak decibel at 60-100km/h: 68.8
Peak stereo decibel: 105.4
Priced from: $158,088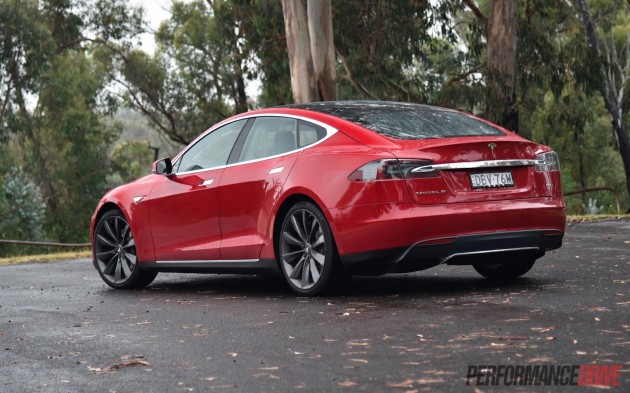 Instead of concentrating on the mesmerising performance in this review – as we've already done with the P85D and P90D tests – we're going to talk about what the Model S is like to live with as an everyday vehicle, and how it compares to the luxury sedan rivals.
Stepping into the cabin of the Model S for the first time is a pretty surreal experience, even for those who don't care much for cars. This writer's mother-in-law hopped into the Model S and she was blown away, but then again she is the kind of person that thinks power windows are "flash".
With the dual glass roof option ($2990) the cabin atmosphere is open and airy, with plenty of natural light spotlighting the sheer simplicity and elegance of the decor. Rear seat space is perhaps more impressive than the front, with a completely flat floor and three semi-separate seats for each passenger, making it the biggest rear-seat space in the class.
Now that we've driven a number of Model S examples (each for around 24 hours), we've noticed the front seats aren't actually that roomy. The low roofline means the A-pillars do intrude on space getting in and out. The seats also feel quite high, and against the flat floor (no contours) it can take some time to get completely settled into a nice driving position. Finding the position can also be tricky as the power controls for the seats are mounted down the sides of the seat, close up against the bulky door trim.
This brings us to another area that has become a bit of a gripe with the Model S; storage space. Sure, there is heaps of open space but it doesn't seem like it is well-optimised. Take the centre console, for example. It's a large long trough, yet you can't really do anything with it because objects end up sliding all over the place. Those bulky door trims also lack any pockets or bottle holders, and we can't work out why; they're as thick as a watermelon. Lastly, the cup holders on the centre armrest are great, but the box they sit in doesn't open. However, it's better than sitting in the back, where there are no cup holders at all. It that sense, the intimacy between man and machine is not at the same level as some of the petrol-powered rivals, and dare we say it, the Model S interior can feel sterile. It's no deal-breaker but it's these little things that would start to annoy us after extended ownership.
Fortunately, every other aspect of the cabin is brilliant. Chief among which is the 17-inch touch-screen interface. It's the biggest in the industry, providing a full tablet-like experience for the front passengers. Every on-board control is accessed through the system, including the climate settings, driving modes and car settings, and the cornucopia of internet-based media options. All Model S variants in Australia get this screen as standard, along with a Telstra SIM card for internet functionality.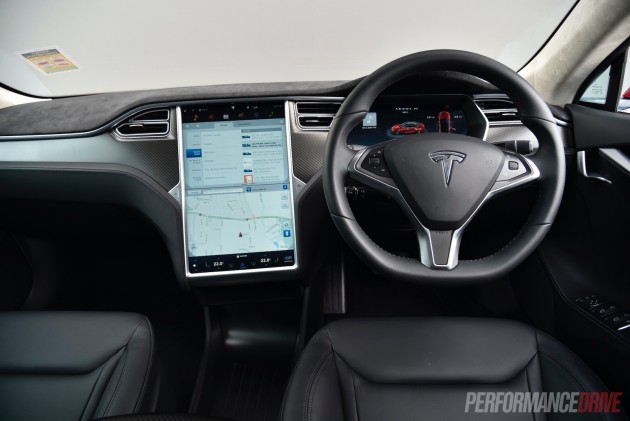 The next surreal experience, after first sitting inside, is the drive. You don't start the car; it's already switched on from the moment the door handles electronically pop out and the car unlocks. This is achieved by simply walking near the car with the key on you. You can play around with the settings and have only one door open and even set the car up to charge the cabin environment with preferred climate before you get in. Everything is configurable and, like a computer, it can be saved so you never have to adjust a thing. This is all part of the Tesla experience and the forward-thinking nature of the company.
Driving is also configurable, especially if you option for the "smart" air suspension which is capable of raising the nose on familiar driveways and bumps, automatically. It does this through location information via the GPS and constant connectivity to Google Maps.
New for the 7.1 software update is an automatic parking feature called Summon. You can summon the car to park itself and you needn't be in the car. Yep, like James Bond in Tomorrow Never Dies… almost. The system requires you to download an app on your phone. We weren't able to test the system as the car needed to be registered with our phone, opening up full access to the vehicle. Since this is a press car, this wasn't possible.
Also new for 7.1 is improved playback connectivity for Spotify, while regenerative braking at low temperatures has been tweaked, and the creep function that pushes the car gently when in D with no brake can now be saved to Driver Profiles. It can also now auto park (with the driver on board) in perpendicular spaces, and some minor software updates have been made to improve screen brightness adjustment and door locking functions.
As you can probably tell by now, this is a very tech-heavy vehicle; a perfect product for those who just can't wait to get their hands on the next iPhone. You really can just sit in the car and play around with the touch-screen, for hours. No other car on the market offers this level of modern-age interaction.
In terms of driving, the Model S is a very sure-footed, solid-handling sports sedan, with eager steering, and loads of grip thanks to its hefty 2000kg-plus weight. Despite being a bit of a fatty, it gets up and goes like a proper high-end sports car. We timed 0-100km/h in 4.60 seconds, with the quarter mile coming up in just 13.15 seconds. These sorts of figures would have shamed Porsches and Ferraris not that long ago. The sensation of speed and sheer surprise is what gets the heart going. There's no engine to rev which means maximum power and torque comes on as quick as your foot moves on the throttle. This is the definition of instant acceleration. And surprisingly, grip is completely relentless.
Cruising on the highway has never been easier thanks to Tesla's highly advanced Auto Pilot system. You can see how this works in our POV live demonstration video here. Basically, it provides autonomous driving capability for 1-2-minutes at a time on the highway. You only need to touch the steering wheel to restart the timer. Tesla (and the government, probably), advises that you keep your hands on the wheel at all times.
When it comes time to recharge, Tesla has limited public charging stations in Australia at the moment but there are more being planned. This does mean you have to be quite mindful in your travels, and it really limits the Model S's ability to do any sort of cross country touring or interstate trips.
For buyers though a Supercharging setup can be installed at your home in the garage. This provides you with around 500km of range (depending on the variant), which should be enough to get most users to work and back a few times. It's not quite free to fill up, with electricity prices ranging from roughly $10 and up to $20 for a full recharge from empty. This all depends on your local rates of course and whether you're charging during peak times. Alternatively, you can install Tesla's solar-powered battery setup at your home which can then be used to recharge your Model S, completely free of charge (aside from the cost of the solar setup).
During our test we were given the car with around 75% charge, so we decided to make a quick stop off at The Star casino in the city to top it up to maximum. Tesla owners get an exclusive car park at the hotel/casino, and can use the system for free. Plugging it in is as easy as it sounds; you tap the recharge button on the touch-screen, open the little door thingy, and plug in the cord. You can then pre-set how much range you want it to charge to and even lock the car and walk away.
In our case, we thought we'd take a quick trip upstairs to the casino. We invested $20 into an enterprise called Where's the Gold, and in quick turnaround it returned a $100 dividend. By the time we walked back down to the car, about 20 minutes later, the car was full of battery and ready to provide us with 569km of driving.
2016 Tesla Model S 90D – THE VIDEO
2016 Tesla Model S 90D – THE VERDICT
The Model S remains the most interesting, futuristic, economical, and technological-advanced vehicle money can buy right now. It's a pity the prices are so high otherwise this writer would be ready to sign the dotted line on one. With the new Model 3 mid-size sedan just around the corner though, we can probably expect many more Tesla vehicles on the roads soon.
PROS:
– Amazing Auto Pilot cruise control
– Huge touch-screen interface, constant Google Maps
– Rear seat space (for the class)
– Can be updated via wireless connection, e.g. in garage
– Huge cargo capacity; front and rear boot
– Instant power and speed (of course)

CONS:
– Heavy; impairs agility
– Intrusive A-pillar cramps front-seat space
– Expensive
– Cabin practicality; no cup holders in the back, centre console space isn't optimised