An extremely rare 1977 Holden Torana A9X hatchback will go under the hammer at an upcoming Shannons auction in Sydney in a few weeks. The A9X has been in storage under a house for 12 years.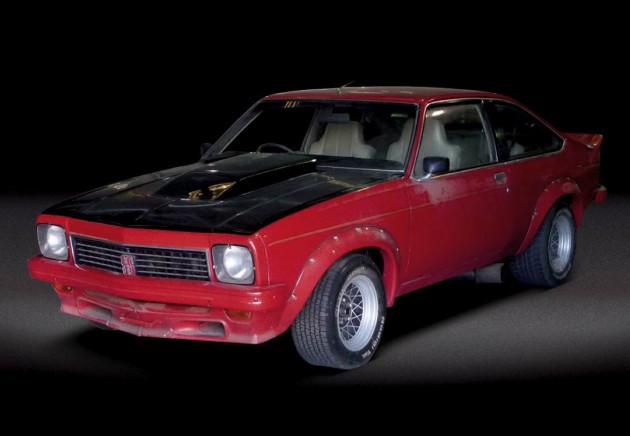 How often does the opportunity to own a genuine Holden A9X Torana come up? Given there was only 100 ever made, we'd say it's not very often. After all, it is one of Australia's most sort after and favourite muscle cars of all time.
The history of this particular A9X goes like this: the car was purchased for a bargain sum of $19,000 back in 1998. The owner, who has since passed away, saw the bargain advertised in Unique Cars magazine and snapped it up – it only had 99,000 original kms on the clock.
The owner was an avid collector of cars and car memorabilia. Being very aware that the car would someday be worth a fortune, he decided it was best stored under the house on blocks. It's reported that he started it regularly, but never drove it during his ownership.
Only 100 A9X hatchbacks were ever built by Holden, plus 33 more lightweight shells, all to homologate the model so it could compete in the Bathurst 1000 race.
The A9X option was available on the SLR/5000 sedan and SS hatchback LX Torana – this option made the already aggressive Torana even more angry. Always a good thing.
Unique features of the A9X were Salisbury rear end and rear disc brakes, a 3.08:1 differential (a 2.6:1 ratio was optional), front spoiler with brake cooling ducts, a bonnet with a large reverse air scoop, and steering gear bolted directly to the platform. These are only a few of the extras that made the A9X package so special.
This Flamenco Red hatchback is a true collector's item, and would look at home in any petrol head's garage. It is set to go up for auction this month in 'as is' condition on July 24 at the Shannons Collector and Muscle Car Auction at Sydney's MotorEx. It seems all that it needs to be road worthy is the brakes overhauled, and a good clean
The car will be sold with a letter of authenticity from the A9X Owners Association of Australia. No reserve price is set, however, it's expected to fetch somewhere between $80,000-$120,000 – well worth it if you've already got the sedan version. Why not have the set?