The 2015 Audi Q3 crossover has been revealed, showcasing mild visual updates, optional technology upgrades, and increased efficiency. The range-topping RS Q3 gets more power as well.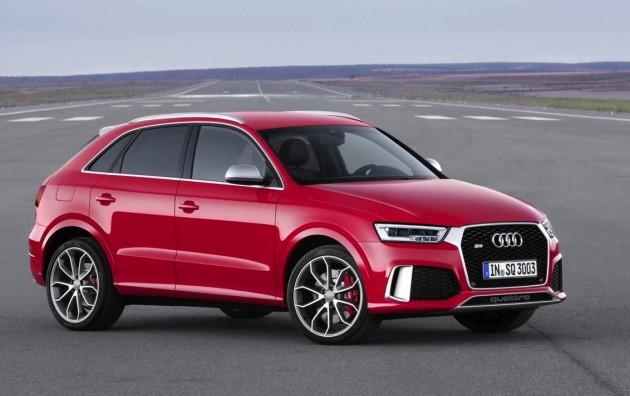 Starting with the updated powertrain lineup, Audi has managed to cut consumption and emissions by up to 17 per cent for some variants. Three petrol TFSI turbo units will be on offer and three TDI turbo-diesel units.
Each displace either 1.4 or 2.0 litres and produce between 110kW and 162kW, at least in overseas specification (Australian details are yet to be announced). The entry-level 1.4 TFSI and 2.0 TDI feature a unique 'Audi ultra' badge which indicates their sheer efficiency potential.
Specific consumption figures range from 4.4L/100km in the case of the TDI ultra with 110kW, and up to 5.6L/100km for the 135kW TDI. Petrol figures start from 5.8L/100km for the 110 1.4 TFSI, and 7.2L/100km for the 162kW 2.0 TFSI, and up to 8.6L/100km for the high-performance RS Q3.
Sitting at the top of the range is the RS Q3. It comes with the same 2.5-litre turbo five-cylinder engine, however, power output has been increased from 230kW to 250kW. Torque has also increased from 420Nm to 450Nm.
With these stats, the punchy SUV can scoot off from 0-100km/h in just 4.8 seconds. That's an impressive 0.7 seconds quicker than the outgoing version. This makes it the equal quickest SUV in this class, matching the Mercedes GLA 45 AMG with its 265kW engine (4.8 seconds).
In terms of design changes, there aren't many. Audi has incorporated a new grille design at the front with a silver border, redesigned headlights with xenon plus technology as standard, or optional LED headlights, and some dynamic turning indicators.
The German company has also made some improvements to the suspension, with fine-tuning providing enhanced handling and rolling comfort. There's also optional active dampers with selectable settings, while buyers can opt for alloy wheels ranging from 16 to 20 inch in size.
The new model will go on sale internationally in February. Audi Australia is yet to announce the local model lineup details and specifications. Expect all to be announced very soon, including prices.