The 2016 Lamborghini Huracan has been announced, bringing improved efficiency, luxury, and more personalisation options to the Italian V10 supercar. The model update coincides with the arrival of the drop-top Spyder.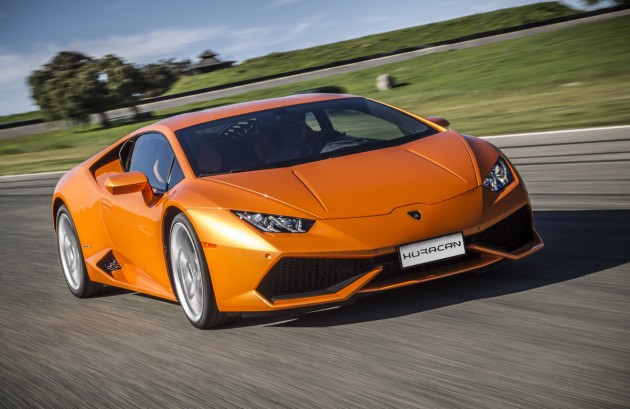 For the first time, the Huracan comes with cylinder-deactivation technology to aid economy. When under light loads the 5.2-litre V10 automatically cuts five cylinders from the combustion sequence. As soon as the driver demands a hint of acceleration, the system automatically switches back to 10 cylinders.
Lamborghini says this transition is completely seamless and "virtually impossible" for a driver to even detect. As a result, fuel consumption and emissions are reduced. Average consumption remains at 12.5L/100km, however, emission levels drop from 290 grams of C02 per kilometre to 283.
Mechanically, the company has also revised the all-wheel drive system for a more neutral driving behaviour, especially in Strada driving mode (the least aggressive of three modes).
Lamborghini has made some changes to the interior too, with leather now featured on the door handles and the upper parts of the centre console as standard. Buyers also have the choice of a wider selection of colours and combinations to make their vehicles more exclusive.
The full Ad Personam program gives customers the opportunity to put together different interior and exterior packages, including iconic heritage colours and a range of cool matt paint colours.
Lastly, the extensive options list has been extended. There's now a Sensonum 390-Watt RMS sound system on offer, with ten speakers, as well as a sports exhaust system with high-gloss tailpipes for an even clearer soundtrack – not that the V10 is quiet to begin with.
Despite the added equipment the supercar is on sale in Australia from the same $428,000 retail price (excluding on-road costs). Interestingly, this is very close to the previous, less powerful and less advanced Gallardo starting price when it was in its second year on sale (around AU$425,000).