This is it. Ken Block's Gymkhana Ten. Arguably the most epic video in the series yet. It features not just one high-horsepower machine, but five different cars that Block and the Hoonigan team have built over the years.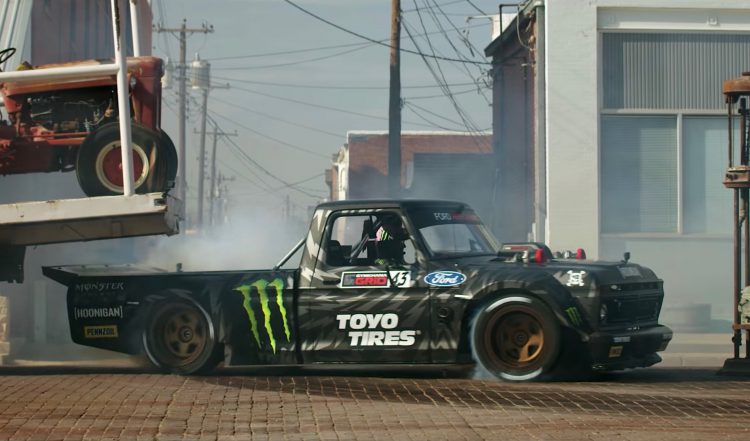 The video starts with all five cars smoking all four tyres while being restrained, like they are ready to be unleashed from the lead. Ken Block then starts with a 2018 Ford Fiesta WRC car in the snow in Sweden, doing his usual antics with some all-new freezing cold stunts.
From there the car merges into the 'Hoonicorn' all-wheel drive Mustang, which features a monster twin-turbo V8 and custom tubular chassis. Block thrashes it around the streets of Detroit, including on the highway which leads into the mother of all handbrake slides.
It then turns to Block's Ford Focus Rallycross car, which is navigated through the tight cobbled streets of Mexico. Block flies through some underground tunnels, gets air over a bridge, and does inch-perfect donuts in a town square just missing tables and chairs.
After that, Block morphs into the awesome Ford Escort Cosworth, driving in an industrial area of Los Angeles. For some reason this section includes some stunt driving on wheels without tyres, although it alternates to show with and without tyres during specific sections.
Lastly, Block thrashes his new F-150 pickup 'Hoonitruck' somewhere along the famous Route 66 in Texas. This is obviously not your typical F-150. It's been modified to within an millimetre of its life, featuring a 680kW version of Ford's latest EcoBoost V6. All of the power is sent through a rally-derived all-wheel drive system, and held together with a custom chassis.
If you've got a spare 20 minutes or so – even if you don't we'd suggest you find it – check it out below. At the very end it says 'to be continued', which means there probably will be a Gymkhana 11 of some kind.