Remember the crazy Dartz Black Shark previewed last week? The finished product has now been fully revealed, showcasing perhaps the ugliest, most imposing body ever for a road vehicle.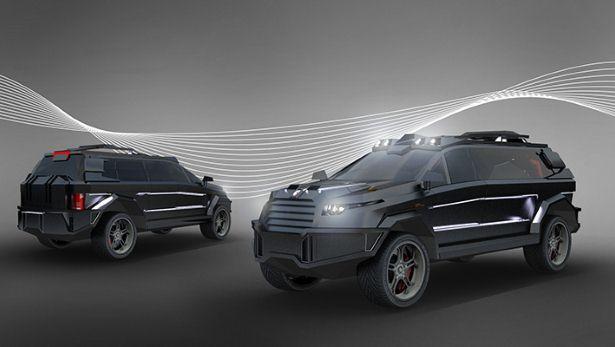 Underneath it all lies a Mercedes-Benz GL-Class SUV, which is basically the biggest family SUV Mercedes makes. For the Black Shark, it's made even bigger again thanks to a new full bulletproof body made to B7 standards.
The body also incorporates a number of on-board cameras, sirens, and lights. Even the door handles are modified, featuring fingerprint scan technology and an electronic shock system if the scan is wrong. A failed access sees the door handles physically retract out of sight.
To help propel the big heavy beast, Dartz offers a range of powerful twin-turbo options, including a V8 or a V12 with up to 1120kW. With that sort of power on tap the amoured SUV should be able to out-accelerate any potential enemies.
The cabin is highly modified as well. It presents the passengers with special trimming, a champagne holder, and even gaming console facilities for machines such as the Xbox One, PlayStation 4, and an LTE hotspot. Leo Yankelovich, Dartz boss, said,
"Our car will be dream of hundreds of tycoons, but only five will be lucky owners. Let's face it – you are bored of serial made cars. We all are. Downsizing, eco-friendly recycled plastic materials and law regulations are making ways to stand out among the best in the car industry very inconvenient."
Prices haven't been mentioned, however, you can estimate given the extravagance of the beast.