If you thought the MINI Cooper S was a little bit girly, perhaps a little on the soft side, you can think again. The latest 2011 MINI Cooper S is definitely capable of scaring the pants off even the most rugged goaty-growing, Jack-Daniels-drinking V8 petrol head.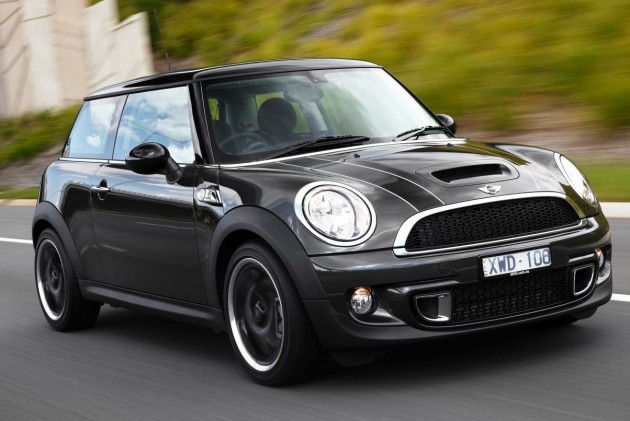 You only need to take a MINI Cooper S for a short stint to notice it is a properly fast product, and the perfect successor to the original Mini Cooper. It features a throaty 1.6-litre turbocharged petrol engine matched to a fast-throw six-speed Getrag manual gearbox and front-wheel drive, all wrapped up into a taught lightweight (1140kg) package.
The 1.6-litre turbocharged unit is a nasty little unit, presenting a hint of turbo-lag and plenty of pops and crackles. Again, this is a good thing. It bolsters the MINI's character

If you love changing gears just for the sake of changing gears, you'll love the Cooper S. Each time a cog is swapped you unleash another character of the car, and it tells you a story just as entertaining as the last. But that's not the only reason to love the Cooper. It's the way it makes you feel and its sheer confidence that shines through the most.
Fly up to any corner, heel-and-toe downchange as fast as you like, jab the steering wheel into the apex and the pin-point handling will literally yank your arms out of their sockets (if you're not careful), as you hang on yelling yee-haa around the corner. And the best part is, the handling is complimented the more enthusiastic you are with the pedal on the right.
You might think we're exaggerating here but the MINI Cooper S really is that much fun. We could have driven it all day. And we did, until it ran out of fuel. But even then it only costs a fifty to fill back up again, then it can take you on another 600-700km ride (depending on how excited you are with the throttle, average fuel consumption is rated at 5.8L/100km).
As we were saying before, the new MINI Cooper is a true modern remake of the original classic. Everything from the round beady headlights to the flat and steep rear end, design cues are all taken from the original. The pocket rocket also has a cool interior layout which is entertaining enough just to sit and look at for a while.
It features a massive central speedo that dominates the dash board, while most in-car settings are controlled via an array of toggle switches. There's a collection of them along the bottom of the central dash fascia and a line of them along the roof line, above the rearview mirror, which make you feel like you're in an aeroplane.
It's all perfect for rekindling the Mini spirit. There's a smattering of technology thrown in too, and it's all behind the scenes. The pack includes all the usual stuff, like iPod/MP3/USB compatibility, as well as enough safety equipment to pass ANCAP's five-star crash tests – including stability and traction control as standard. But there's still a huge element of retro, reminiscent of the original. That's a good thing, as there's not much worse than a manufacturer trying to remake a classic only to miss the mark.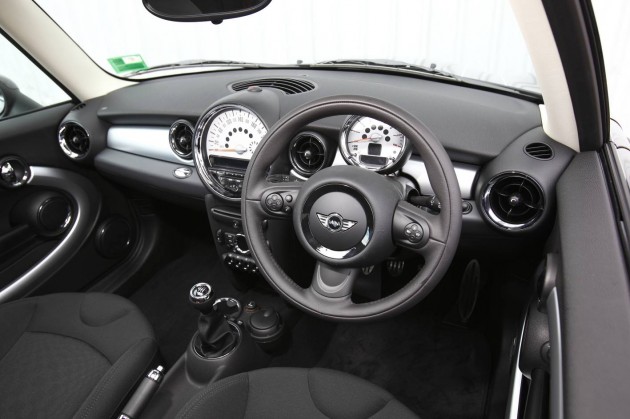 You see these things driving around all the time, but mostly, they go unnoticed. It's not until you sample one for yourself that you know what it's about. I like to think that this is one of those cars where passing drivers in other MINI's give each other a little hat-tip as they pass by, like motorcycle riders do.
More about that heart. It's a 1.6-litre turbocharged four-cylinder unit made and engineered by the partnership between BMW and PSA (Peugeot), offering 135kW and 240Nm. It's a nasty little unit, presenting a hint of turbo-lag and plenty of pops and crackles. Again, this is a good thing. It bolsters the MINI's character.
I can't really explain the sound that gets belched out of the centrally mounted twin tailpipes, I guess it's a little bit like a toned down rally car, or an exhaust-equipped SR20DET motor – if you know the sound. At full throttle, standing on the side on the road, the MINI yells playfully up the road with a mixture of aggressive and finely tuned hum.
From the inside, the noise is in no way overwhelming or annoying, but the moment you give it some, it reminds you it's always ready to play. To further emphasise this, there's also a Sport button which, when pushed, sets the car up into a more aggressive mode. The suspension and steering is tightened, the throttle response is made touchier and under full power, an Overboost function comes in to supply more oomph (an extra 20Nm).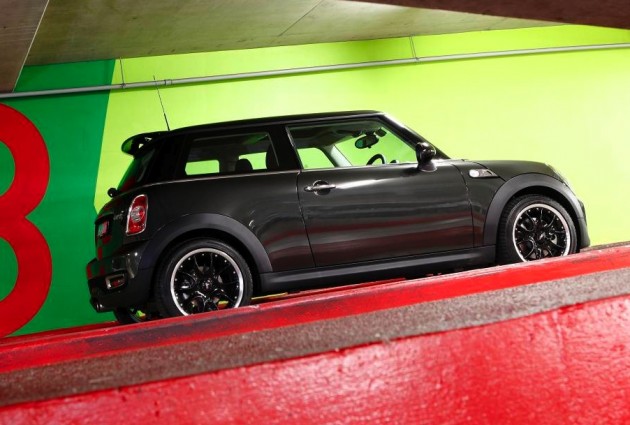 The ride is a little fidgety on small dips and corrugated undulations, especially in Sport mode, but what else do you expect from a short-wheelbase sports car? It's that short-wheelbase that provides half the fun. The other half is the way chassis is designed; similar to the way it was in 1959, with each wheel put in the furthest corner of the car. It's this design – minimal overhangs – that make the MINI one of the most agile sub-$60K cars on the market.
Stuff sub-$60K cars, the MINI Cooper S on a track or windy strip of mountain road would have almost anything under a hundred grand in its reach, seriously. There's so much grip and handling prowess on offer. It also takes a lot to reach the limits. It's no wonder the Australian Grand Prix used to use these things in the celebrity race event; they're that surefooted.
Unlike most things though, just because it's safe and secure doesn't mean there's no pleasure. The fun is highly accessibility, for almost any driver, which comes from those years of engineering and trickled-down heritage. You don't need to be an ace driver to enjoy it, like if you were driving, say, a Ferrari or a much more powerful car that requires plenty of concentration before any level of fun is reached.
The drawbacks? There's not much room in the boot for many things. That's probably the only reason you wouldn't want to buy one. Oh, and if you didn't want to have fun or be recognised as having some kind of personality, you probably wouldn't like it. Overall, an outstanding cult classic remake, highly recommended.
PD TECHNICAL BOX
MODEL
2011 MINI Cooper S
ENGINE
1.6-litre, twin-scroll turbocharger, DOHC, four-cylinder
ENGINE SIZE (cc) / COMPRESSION RATIO
1598cc / 10.5
BORE X STROKE (mm)
77mm x 85.8mm
POWER
135kW @ 5500rpm, 240Nm @ 1600-5000rpm (260Nm on Overboost)
POWER TO WEIGHT RATIO
8.4 : 1 (kg/kw)
WEIGHT
1140kg
HEIGHT / WIDTH / LENGTH
1407mm / 1683mm / 3714mm
DRIVETRAIN
Front-wheel drive
BRAKES
Front: Ventilated disc
Rear: Disc
WHEELS / TYRES
17 inch
FUEL CONSUMPTION
Official average: 5.8L/100km
PERFORMANCE
0-100km/h: 7.0 seconds
PRICED FROM
$43,050
PROS
Agile handling, power delivery, fuel consumption
CONS
Purists will argue it's 'not' like the original, quirky dash
THE COMPETITION
VW Golf GTI, Renault Clio Sport