Ken Block is planning yet another one of his crazy driving films. However, instead of the usual Ford Focus rally car, it looks like 'Gymkhana 10' will feature a hugely modified Ford F-150. Welcome to the Hoonitruck.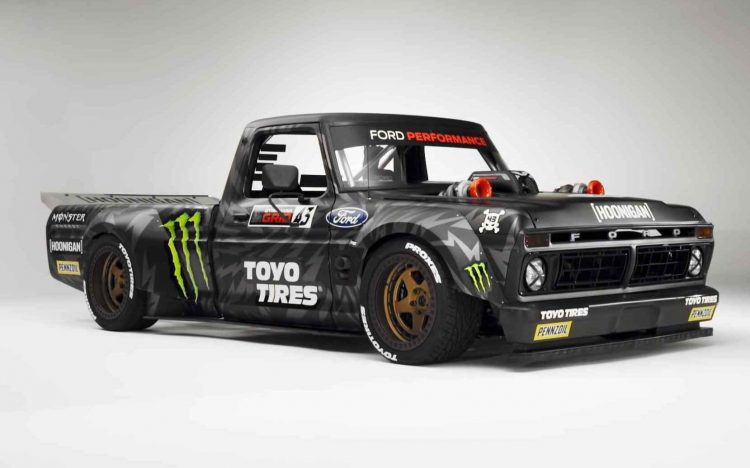 It's mental. You only need to glance at the front to see the two large turbocharger inlets rising up like bull horns to know something serious is going on underneath. More specifically, this 1977 F-150 is powered by a twin-turbo version of the Le Mans Ford GT.
Some F-150 fans might suggest that it needs a V8, but, with this heavily boosted EcoBoost V6, it's certainly not shy on performance. The unit produces around 680kW (914hp), which is sent to all four wheels via a rally-developed drivetrain with a Sadev six-speed sequential gearbox.
It might look like an F-150 on the outside, but underneath, it's pretty much a custom car. Everything is held together with a full tubular frame and box chassis, which extends to the interior to provide roll cage protection. There's also a custom suspension setup bolted to it, while ultra-cool bronze deep-dish wheels are wrapped in the traditional Toyo tyres with white printing.
The interior is a completely custom job as well, with racing gauges set on a custom carbon fibre dash, with the all-important handbrake lever and gear-shifter standing tall and proud and ready for rally antics.
Ken Block says he selected the old F-150 as it was the car that he learned to drive in as a young boy. It will be used for the 10th instalment of the popular online video series. And for number 10, the team has partnered up with Amazon Prime to put together an eight-part series. It starts on November 16. Check out the video below for more insight on the crazy Hoonitruck.