Hyundai has been spotted testing a potent i30 Fastback at the Nurburgring, with all signs pointing to the anticipated Hyundai i30 N Fastback. It was recently seen barking out an animated turbo soundtrack on the German circuit.
As you may have seen (and heard) in our i30 N comparison video earlier this week, the new hot hatch offers serious levels of rally-inspired performance. It sounds like a rally car, too, with its bi-modal exhaust in sport mode crackling and popping loud enough to wake the neighbourhood. Interestingly, the prototype below does sound a bit quieter, although the driver may be running in normal mode, or Hyundai may have fit a quieter exhaust purely for testing purposes.
Hyundai unveiled the regular i30 Fastback in the middle of last year, pitching it as sportier version of the traditional i30 hatchback body style. It'll come with a range of engines, including a 1.4-litre turbo developing 103kW, a new 1.0-litre turbo three-cylinder producing 88kW, and a new 1.6-litre turbo-diesel generating 81kW and 100kW, depending on the variant.
As far as PerformanceDrive understands, none of these engines will be offered in Australia. Instead, Hyundai Australia is tipped to introduce the cooking i30 N version only, in Fastback form. So you might as well get used to the car in the video below, as it is likely to be a popular one.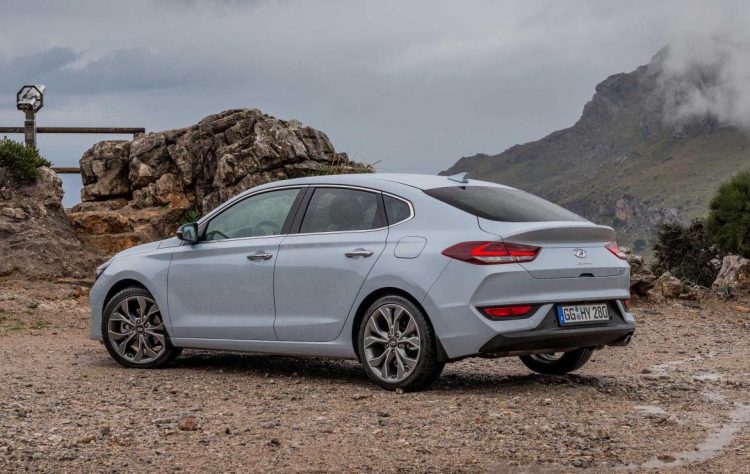 The regular Fastback (above) is 115mm longer than the hatch, but 30mm lower in terms of roof height. Around at the back it is a four-door coupe-like lift back hatch, with stretched C-pillars providing an elegant side profile. In N Performance form, we can anticipate a subtle aero kit like what is seen on the N hatch, with 19-inch alloy wheels and some discreet red highlights including brake calipers.
Under the bonnet the same 2.0-litre turbo four-cylinder engine from the i30 N hatch is set to carry over in exactly the same form. Overseas, the engine is offered in 184kW and 202kW guise, but in Australia it comes in full-boost 202kW form only. We're not sure if this philosophy will apply to the Fastback. Hyundai is said to be working on a dual-clutch auto option for the i30 N, and this unit may debut with the Fastback model.
Hyundai announced last month that it is planning to expand its N Performance portfolio. It also introduced a new N Line sub-brand for racy accessories, giving buyers the option to spruce up any model in the showroom with sporty N-inspired highlights. These are likely to be cosmetic enhancements only, although Hyundai does offer a lightweight forged alloy wheel option for the i30 N – the wheels might be pulled from a different catalogue to N Line products, however.
A full debut for the Hyundai i30 N Fastback could take place at the upcoming Paris motor show in October. Until then, check out the spy video below for a preview, provided by YouTube channel, Automotive Mike.