Following a number of reveals via leaked toys, and a few teasers, Volvo has now gone ahead and revealed the all-new 2016 Volvo S90 large luxury sedan.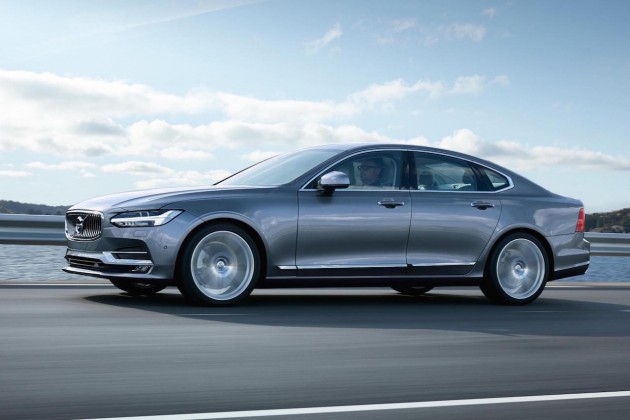 First up, the design. It carries over a similar theme as seen on the latest XC90 SUV, with rounded headlights and Thor hammer LEDs, a prominent front grille, high waist, and a squared off rear end. Håkan Samuelsson, president and CEO at Volvo Car Group, said:
"With the launch of the XC90, we made a clear statement of intent. We are now clearly and firmly in the game. With $11 USD billion of investment over the past five years, we have not only reimagined what Volvo Cars can be – we are now delivering on our promise of a resurgent and relevant Volvo Cars brand."
As you would expect, the new S90 comes with a host of advanced safety technologies, including Pilot Assist semi-autonomous driving capability. There's also cloud-based apps and services, and a more advanced version of Volvo's City Safety system which is now able to detect large animals such as horses, in day or night.
In the engine compartment sits the T8 Twin Engine plug-in hybrid system with a maximum output of 300kW and 640Nm. Performance figures haven't been mentioned but it does offer a fuel consumption average of just 1.9L/100km.
Buyers will also be able to select the T6 unit, comprising of a 2.0-litre turbo producing 235kW and 400Nm. The T6 is able to sprint from 0-100km/h in 5.8 seconds, and offers an average consumption of 7.3L/100km.
With an overall length just a shave under five metres, and a width of 1890mm, it's no wonder the interior of the new S90 has been made as large and accommodating as possible. And, well, just look it. Volvo has used a blend of fine leathers, with intricate detailing around the centre console and door trims, and plenty of exclusive trimmings. In the back is a 500-litre boot.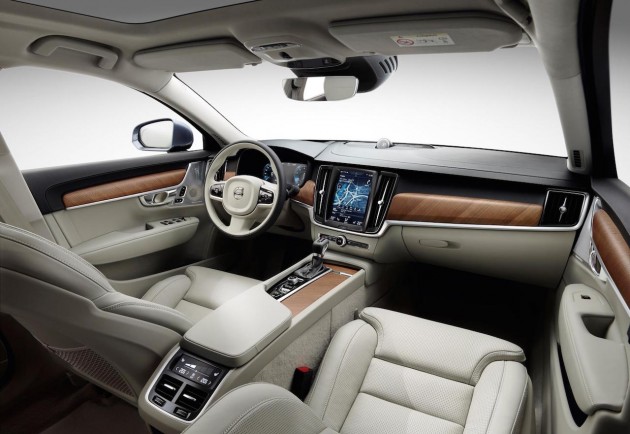 Market entry for the large sedan is expected to take place later next year in Australia, with a public debut taking place at the Detroit auto show in January. A V90 wagon version is set to be on the way.