In need of a swift, stately sedan with a compelling design and enough technology to satisfy even the savviest of tech nerds? The 2016 Jaguar XF S 35t could be the perfect solution for you.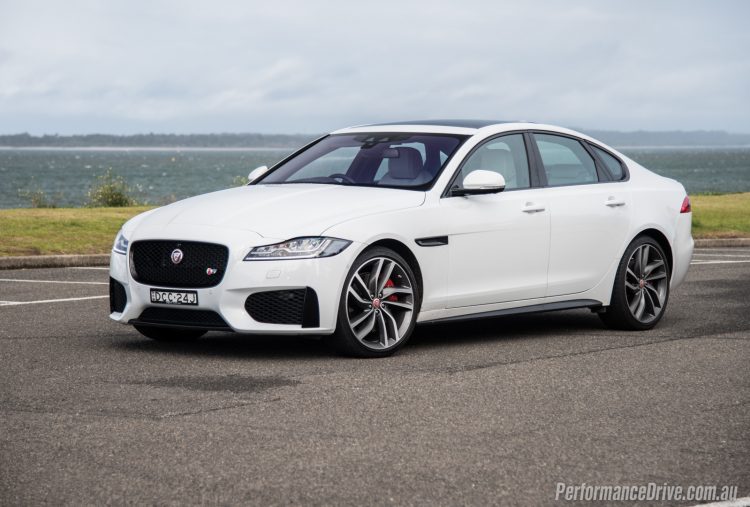 Jaguar introduced the new XF late last year. Although it is based on the same Ford platform as the predecessor, which started life underpinning the S-Type from year 2000, Jaguar has made extensive revisions and refinements, while altering some of the external dimensions to open up more cabin space. As before, buyers can select between potent petrol and economical and torquey turbo-diesel units.
What we're testing here is the range-topping S in '35t' form. This is the fastest model available (until a new XF R arrives), featuring Jaguar's 3.0-litre supercharged V6 expressing 280kW and 450Nm. All models in Australia are rear-wheel drive and use an eight-speed automatic transmission. If you're after economy, Jaguar also offers the XF S in 30d form, which uses a 3.0-litre twin-turbo diesel V6 producing an impressive 221kW and 700Nm.
Being the flagship, the S is priced quite high, although, comparatively, it is more affordable than the German equivalents. The 30d starts at $121,805 while this 35t kicks off from $129,066 (excluding on-roads).
2016 Jaguar XF S 35t – THE SPECS
Engine: 3.0-litre supercharged V6
Output: 280kW@6500rpm / 450Nm@4500rpm
Transmission: Eight-speed auto
Drive type: Rear-wheel drive, torque-vectoring
Wheels: F: 19×8.5, 245/40 R: 19×8.5, 245/40
ANCAP: Five stars (Euro NCAP)
Tare weight: 1662kg
Power-to-weight: 5.93:1 (kg:kW)
Official fuel economy: 8.3L/100km
Economy during test: 10.4L/100km
Fuel capacity/Type: 74L/95 RON
Power efficiency: 33.7kW:L/100km
0-60km/h: 2.17 seconds
0-100km/h: 5.43 seconds
1/8 mile: 8.98 seconds at 136.8km/h
1/4 mile: 13.67 seconds at 169.8km/h
100-0km/h braking: 2.94 seconds at 38.30 metres
Decibel at idle: 40
Peak decibel at 60-100km/h: 79
Priced from: $129,066

2016 Jaguar XF S 35t – THE PACKAGE
The new model might look similar to the predecessor but there are a number of crucial differences. The wheelbase has been made 51mm longer while the front overhang is 66m shorter. This not only assists dynamically, in terms of handling and agility, it also opens up more cabin space. Overall length has been reduced 7mm and it stands 3mm lower on the road in terms of roof height.
Aside from the practicality benefits this all brings, make no mistake, the XF is still a large sedan, sitting at just a smidge under five metres in length. Revisions have also seen torsional rigidity increase by 28 per cent and weight has been slashed by up to 190kg, depending on the variant. All of this is good news and makes the XF an even stronger competitor in this fastidious vehicle segment.
Jaguar vehicles are renowned for their modern and unique designs. And the same can be said of the latest XF. It looks beautiful and is, in our opinion, the most stylish and glamorous sedan in the class. But there are sacrifices. The roofline is very low profile, with the A-pillar spearing straight for your forehead in the front. You have to crouch down to get in too, which most would regard as a penalty as this vehicle class is meant to be about luxury and relaxing motoring, isn't it?
Rear seat space is good, once you're in, with slightly reclined, semi-individual seats offering reasonable headroom thanks to cutaways in the ceiling and good legroom. In this respect, all of the rivals we've tested seem to be more practical and will probably be easier to live with on a day-to-day basis. Of course, the rivals don't turn heads quite like the XF.
Equipment levels are high on this XF S version, with Jaguar Land Rover's latest 10.2-inch touch-screen interface fitted as standard. InControl apps are a $590 option, while digital TV tuning is a $2160 option. As you can probably guess, options are still a big part of the buying experience with Jaguar. It is good to see the new model does come with plenty even if you tick no option boxes though. If you tick almost all of the option boxes however (selecting the most expensive wheels and so on), you'll be adding around $59,000 to the original retail price of the car.
Cabin design mimics the approach introduced with the smaller XE. You feel cocooned in like a sports car, with a unique ring running the perimeter of the dash with low seating positions. Everything you touch is of utmost quality, including button feel and intricate details, with a clean and clutter-free console and dash fascia making it easy to become familiar with all controls.

2016 Jaguar XF S 35t – THE DRIVE
At the heart of the XF S 35t, despite the label suggesting a turbocharger, there is a supercharged V6 as mentioned. This a superb engine, as seen in cars such as the stunningly sexy F-Type and the brilliant little XE S. Here, it's in its most powerful state. With 280kW on tap it is one of the most powerful six-cylinder models in the class in Australia, not far behind the 331kW Audi S6 and 301kW Maserati Ghibli S (both considerably more expensive).
On the road the engine is super-responsive thanks to the supercharger. The accelerator pedal feels like a precise volume knob on a high-end stereo; with every gradual movement you get an immediate reaction. 50 per cent throttle will give you 50 per cent acceleration, instantly. This means you can have a lot of fun modulating the throttle around in the bends, applying the perfect amount of power for each corner while maintaining a nice flowing momentum. Torque is perhaps the most impressive aspect of the engine. In almost any gear in any situation the engine is able to serve up gut-turning surge and speed.
Acceleration from 0-100km/h stopped our clock in just 5.43 seconds, with the quarter mile coming up in just 13.67 seconds. These are some properly fast times, especially for something that isn't a dedicated, one-trick-pony performance car.
Matched up to the V6 is a version of ZF's widely-used '8HP' eight-speed auto. This gearbox, albeit with different tuning and calibration, can be seen in a number of vehicles on the market today, including most of BMW, Maserati, Bentley and Rolls-Royce's range, and some of the larger Audis. Jaguar's calibration is quite good. You have versatility too, with the driving mode selector providing either smooth and sooner upshifts to conserve fuel or snappier and longer-held shifts for performance. Using the 'S' mode on the pristine stainless steel gear selector, that rises up on starting, also gives you another characteristic.
In terms of handling, the steering is a delight. The front end points and sticks, with a good relationship between man and machine. Rear end grip is surprisingly adhesive, even with all that power and torque. Some of the credit should be directed to the torque-vectoring differential. This, very effectively, distributes engine torque between the left and right wheel for optimum pivot around bends. The system will also automatically brake the right or left wheel, depending on the direction you're going, if it sees necessary to help make a turn. This makes it virtually impossible to become unstuck. For immature folk such as yours truly, it does make it difficult to kick the tail out.
On test we felt some torsional flex, with the roof creaking when driving up awkward driveways and such. Along our usual tight mountain road test the XF S did show some nervousness when really pushed as well, compared with some of the rivals. In our opinion it's not quite as confident or predictable, chassis-wise. However, the brakes hold up very well despite that engine building speed very quickly in between corners.

2016 Jaguar XF S 35t – THE VIDEO
2016 Jaguar XF S 35t – THE VERDICT
If you see the new model as a facelift of an already polished product, the XF S is an advanced, suave, and somewhat stealthy majestic machine. If you take it as a brand new model for this segment, it doesn't stack up as well as some of the rivals; the new Mercedes-Benz E-Class is significantly more intelligent with benchmark-setting technologies, while the BMW 5 Series is a superior driver's car in terms of accessible and manageable performance. The Lexus GS can also be seen as a more practical offering. All of the rivals have their own downsides too, such as higher prices and not being as special. For all the Jaguar lovers out there, this is a naturally progressed sedan that builds on the company's rich heritage.
PROS:
– Immediate throttle response and torque
– Fine attention to detail and quality
– Engine sound and immense straight-line performance
– Crisp design
– Light weight (for class)
– Everybody loves a Jaguar

CONS:
– Not as competent, dynamically, as 5 Series or as smart as E-Class
– Head-banging pillars (getting in and out)
– Options, options, options