Images of the all-new 2013 Volvo V40 have been leaked online. The Volvo V40 will be the Swedish company's new compact vehicle, ready to take on the likes of the Volkswagen Golf, BMW 1 Series, and the new Mercedes-Benz A-Class.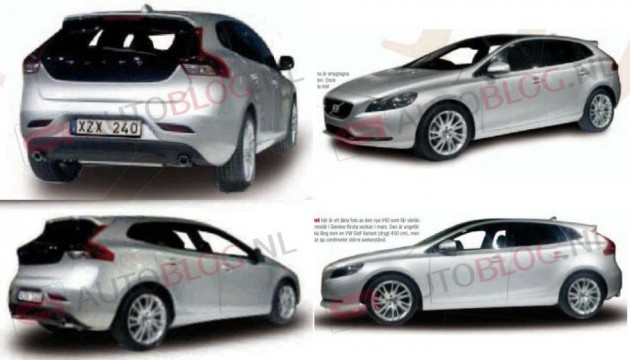 Volvo isn't set to unveil the V40 and S50 (wagon) until the 2012 Geneva Motor Show next month, however, a number of European publications, including autoblog.nl, have managed to get their hands on some early images.
As we can see, the 2013 Volvo V40 will embrace the company's latest design language, featuring a pointed front end with a pronounced upper grille, while the rear goes for a modern and slightly futuristic approach, adopting a black panel which extends down into the tailgate – carried over from the current C30 – with sharp Volvo-esque taillights.
Looking at the side profile, the 2013 Volvo V40 showcases a very raked set of A-pillars giving the impression of a low-profile sports hatch. These then blend into a wedge-like shape, offering five-door convenience.
The 2013 Volvo V40 is expected to come with a variety of engine options, including 1.6-litre turbocharged petrol four-cylinder units ranging from 90kW, 110kW and 135kW output ratings, as well as 1.6-litre and 2.0-litre turbo-diesel offerings.
All will be revealed at the Geneva show, starting March 6.