The Hennessey Venom GT is an epic supercar made by American car company, Hennessey Performance Engineering. We just found this recently added video on the 'Tube showing an example unleashing its full power on a dyno. For added awesomeness, one of the dyno runs is taken in the dark.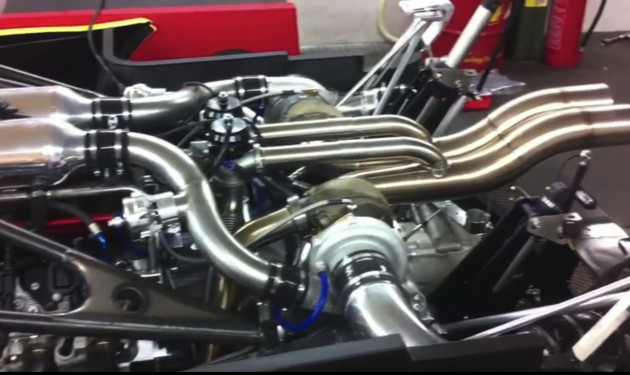 In standard form, the Hennessey Venom GT uses a 6.2-litre twin-turbo Chevrolet V8 producing 750kW (around 1000hp). There's also an optional engine tune with 890kW (1200hp) and 1350Nm. Here we see what that power looks and sounds like when given the beans.
Hennessey says the car is able to accelerate from 0-100km/h in just 2.4 seconds and go on to a top speed of 400km/h-plus, in its highest specification. We don't see why not, using a Ricardo six-speed sequential transmission pushing a weight of just 1100kg, the mathematics of it all certainly points to such figures.
Just 10 Hennessey Venom GTs are planned to be built each year, with prices starting at US$600,000 (around AU$571,500) for the standard version and US$725,000 (around AU$714,400) for the 890kW version. As far as we know, Hennessey has thus far built three examples.