As reported previously, Italdesign and Airbus have collaborated on a concept car for the 2017 Geneva Motor Show and here it is; the Pop.Up.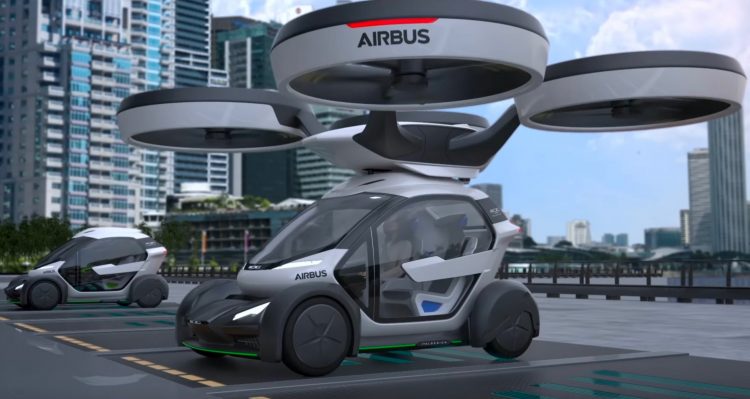 A white passenger pod sits atop a rolling carbon-fibre chassis, which is designed to interact with ride-sharing applications and is autonomous. All the hardware for electric propulsion is self contained within this module. It has a 60kW motor, capable of 100km/h and takes only 15 minutes to charge.
The passenger pod is 2.6 metres long, 1.4 metres tall and 1.5 metres wide with room for two occupants. Atop this again a battery pack module can sit providing additional battery range.
When the vehicle encounters congestion, a drone with eight rotor blades can be summoned to unburden the rolling chassis of the passenger pod and carry it, while the chassis makes its own way home autonomously. The drone component generates 136kW and is just as capable as the ground module, albeit with a 100km range (unladen).
The air module is 5 metres by 4.4 metres in size. Matthias Thomsen of Airbus commented:
"Adding the third dimension to seamless multi-modal transportation networks will without a doubt improve the way we live and how we get from A to B. Successfully designing and implementing solutions that will work both in the air and on the ground requires a joint reflection on the part of both aerospace and automotive sectors, alongside collaboration with local government bodies for infrastructure and regulatory frameworks. Italdesign, with its long track record of exceptional vehicle design was an exciting partner for Airbus for this unique concept project."
Take a look at the video below for more of an idea on how it all works. And feel free to let us know your thoughts in the comment section below.