This is the 2015 Audi TT Roadster and the sporty TT S Roadster, based on the new TT revealed earlier this year. Driving dynamics, technology, efficiency, and performance have all been stepped up compared with the predecessor.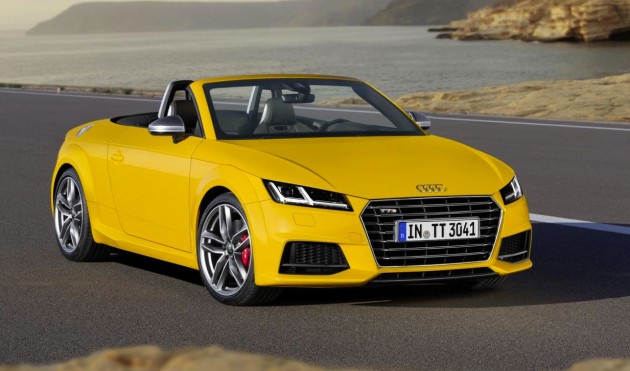 Looking convincingly smarter and more clean-cut than the outgoing model, the 2015 TT Roadster is based on the Volkswagen Group MQB platform, like the coupe. The platform is one of Volkswagen's latest architectures made using plenty of high-strength aluminium to keep weight down.
Speaking of weight, the 2.0 TFSI weighs in at 1320kg. This means it is 75kg lighter than the outgoing front-wheel drive equivalent featuring the old 1.8 TFSI engine. Being lighter weight obviously has performance benefits, but also benefits in terms of agility and efficiency.
Audi has given the TT Roadster a shorter overall length, by 21mm, while adding 37mm to the wheelbase for more interior room. It's also 10mm narrower, and 3mm lower for a sleeker, sportier stance.
As for performance, the new model will be available with either a 2.0-litre TFSI turbo four-cylinder producing 169kW and 370Nm, or a 2.0 TDI turbo-diesel developing 135kW and 380Nm. The TDI diesel comes with a combined cycle fuel economy rating of just 4.3L/100km.
The higher performance TT S uses a tweaked version of the 2.0 TFSI, producing 228kW and 380Nm. It's able to accelerate from 0-100km/h in just 4.9 seconds.
Take a look inside and you'll notice Audi has significantly smartened up the design, with circular dials and vents, crisp materials, two variants of a multifunction steering wheel, and an advanced MMI multimedia interface with six main buttons and a remote touchpad controller. The interface is located in the instrument cluster to provide a clean and clutter-free dash design.
Audi Australia is yet to announce local variant details and prices, however, it will make its official debut at the Paris Motor Show next month.