BMW has been seen out in the streets testing a prototype of the new 2014 F80 BMW M3. This is the first video of the new M3, that we're aware of, that captures a decent sound of the new engine, which, by the sounds of it, won't be a V8 but a six-cylinder.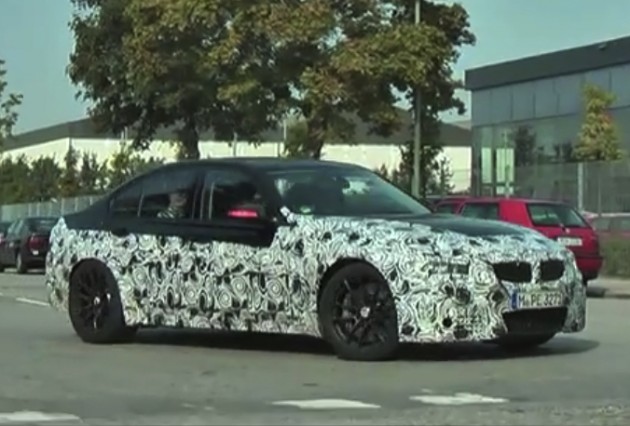 As previously reported, there's various speculations going around at the moment surrounding possible engine and powertrain options for the upcoming 2014 F80 BMW M3.
Some say it will feature an all-new twin-turbo V6 design, an option first fuelled after patent images submitted by BMW were found outlining such a layout. Others have cited development proposals for a new triple-turbo 3.0-litre straight- six engine – based on the unit powering the awesome little BMW 1 Series M Coupe.
One thing is for sure, as this video proves, the new 2014 F8 BMW M3 will not feature a V8 like the current model. The video previews a much more crisp almost hollow engine sound, very typical of a six-cylinder engine.
Also, the lack of a bulging bonnet on this test car could also cement the idea of BMW removing the V8, and going for something both more traditional, but also more fuel-efficient, in the form of a six cylinder.
Like the 2012 BMW M5, the new 2014 F80 BMW M3 will feature a dual-clutch transmission. Take a listen to the burbling beat of the engine as gears shift in this video below.
We'll be sure to keep you updated with more details as they come. Things are only just starting to heat up.
(Thanks to Bimmerpost for capturing the video)
Also check out:
– New (F80) BMW M3 to feature twin-turbo V6? – patent application found