In the lead-up to the launch of the new Ford Fiesta ST, Ford has released full-throttle track video to get the taste buds going. The new model will go on sale in Australia during the middle of this year.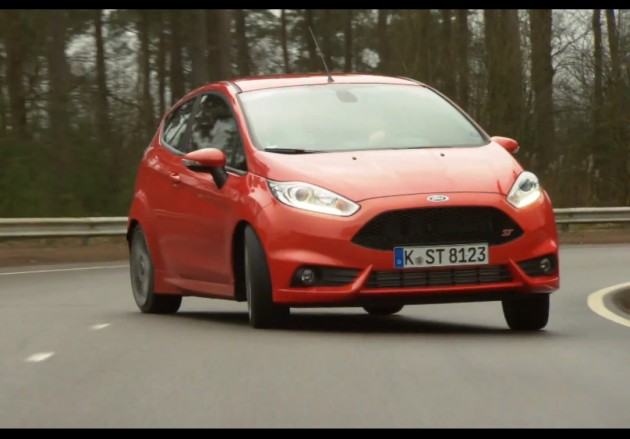 Like the Focus ST, the Fiesta ST is a dedicated performance model featuring loads tantalising revisions over the regular model. For starters, there's a new 1.6-litre EcoBoost turbo four-pot under the bonnet producing 132kW and 240Nm.
Matched up to a six-speed manual transmission sending power to the front wheels, the compact hot hatch is able to scramble off from 0-100km/h in just 6.9 seconds, making it one of the quickest pocket rockets in its class.
In other areas, the Fiesta ST will come with sports lowered suspension to firm up the Fiesta's handling – it's even capable of cocking a rear wheel by the looks of it – sports brakes, and a suitably dressed up interior with bolstered bucket seats.
The new variant will rival the likes of the Volkswagen Polo GTI, the Skoda Fabia RS, and the Renault Clio R.S. Prices are expected to kick off at around the $25,000 mark.
Click play below for a first taste. By the sounds of it, the Fiesta ST will come with a snorting engine note just like its bigger brother, the Focus ST.