Bugatti has been spotted test driving prototype versions of the Veyron successor, dubbed the Chiron, featuring the production body for the first time.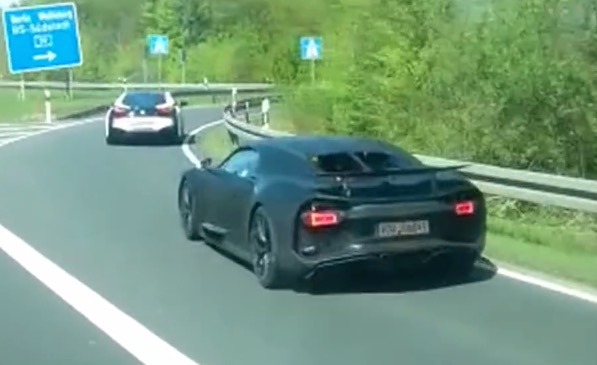 AutoBild managed to capture two Chiron prototypes out on the highway travelling with a Bugatti Veyron Super Sport and a Lamborghini Huracan. There's no sound in the video and we don't even get to see them hitting some hard laps on a track. Nope, instead, they feature the new model.
It's common for manufacturers to use existing bodies for prototypes to help conceal new shapes and designs. And that's exactly what Bugatti has been doing with the development of the next Veyron. Up until now.
As you can see, the Chiron takes on a different design to the Veyron, with what seems to be a longer and lower body profile. There's also a more independent rear wing that likely works on hydraulics like the Veyron wing, along with a complex rear end with a wrap-around body and protruding panels.
Interestingly, the prototypes seem to be driving with a BMW i8 as well. We've heard in the past Bugatti might turn to electric power for the new model, in hybrid form at least. Is it possible Bugatti is testing some form of electric system up against the BMW i8's system?
As far as we know the new Chiron will offer more power than ever, potentially developing around 1500PS (1104kW). It's expected to break the top speed record like the Veyron did, and smash 0-100km/h in around 2.0 seconds flat.