Ford has been spotted testing another prototype of the hot new 2016 Ford Focus RS, this time sporting a new front bumper bar which gives away some of its design.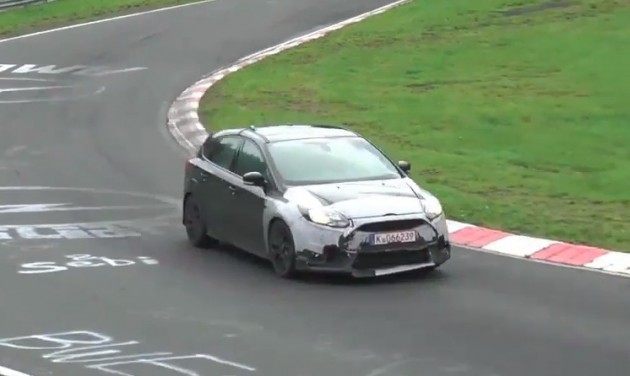 Until now all prototypes of the Focus RS we've seen have used a modified and heavily wrapped version of the Focus Sport front bumper bar or the bumper from the ST. In the black prototype you can see the signs of the new design.
It looks like the new RS will come with an aggressive front spoiler which doubles as the large lower intake mouth. There's also a pair of intakes in the front corners which lead to the engine intake or brakes.
Details on the engine and drivetrain are still unclear at this stage. As far as we know the RS will come with a 2.3-litre turbocharged four-cylinder EcoBoost engine like what is seen in the new Mustang, with a power output of around 240-250kW. Given the previous gen RS used a 2.5-litre five-cylinder turbo producing 224kW, with 0-100km/h coming up in 5.9 seconds, the new model will be considerably quicker.
There has been some talk of the new version getting an all-wheel drive system, however, other industry experts suggest Ford might want to take on the Nurburgring front-wheel drive lap record. Either way, underneath is expected to come with an advanced RevoKnuckle front system setup and a heavy-duty limited slip differential.
As for market timing, Ford recently announced a facelift for the current third-gen Focus, however, an all-new model is coming in 2016. The RS is set to be the last of the third-gen models. Expect a market entry of late-2015/early-2016 for the RS. Click play below for a preview.