The advanced new BMW i3 electric city car has officially landed in Australia. It is labelled as the world's first premium car that has been designed from the ground up as an electric vehicle.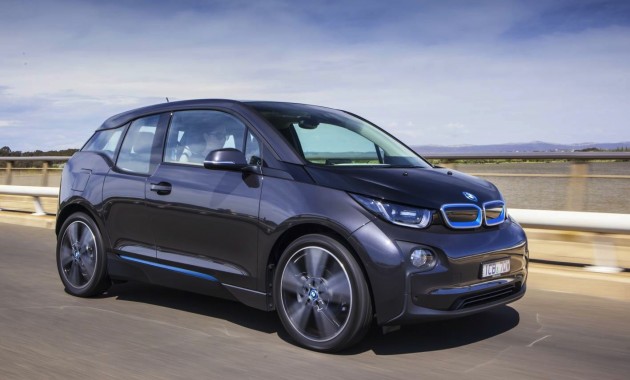 For those who may not know, this is the second BMW electric-based vehicle to be launched under the company's 'i' sub-brand, following the i8 sports car. It's available in two main forms, including one with a fully electric powertrain and one with a petrol range extender.
The fully electric entry model is powered by a BMW eDrive 360-volt, lithium-ion battery providing 22kWh of energy. Overall output is rated at 125kW and 250Nm, which is more than most other city cars of this size.
With this, the little car, which offers a turning circle of just 9.8 metres, can accelerate from 0-100km/h in just 7.2 seconds and can go on to a top speed of 150km/h. Best yet, you can drive it for around 160km in Comfort mode before the battery goes flat, or around 200km in Eco Pro driving mode.
If the thought of running out of juice frightens you, BMW offers the range extender pack. This is basically a 650cc two-cylinder petrol engine with is used only to recharge the battery. Maximum range is then expanded to around 300km.
Being a BMW the engineers had to ensure the inherit driving character remained. So they fitted MacPherson strut front suspension and a five-link independent rear suspension system, with rear-wheel drive. It is one of the only rear-wheel drive models of this size. Part of dynamics can also be contributed to the extensive use of carbon fibre for the bodywork, resulting in a kerb weight of just 1195kg.
Practicality is quite impressive too, coming equipped with a 10.3-inch multimedia display with iDrive control, sat-nav, digital radio, a 20GB hard drive, and full connectivity. In the back there is a 260-litre boot which can be expanded to 1100 with the rear seats folded down. There's also a 35-litre boot under the bonnet.
BMW Australia is offering the base model (without the range extender) at prices starting from $63,900, and $69,900 for the range extender version. It will be interesting to see how the Australian public reacts to the new model.