In this video, BMW gets up to some auto-mischief in the new twin-turbo 2012 BMW M5. The location is the Pendine Sands, a quiet beach in Wales.
Precision driver, Wolfgang Weber, was thrown the keys and told to swing the BMW M5 in a manner that would create the shape of an athlete to help support the BMW London 2012 Performance Team Athletes, ahead of the 2012 London Olympic Games.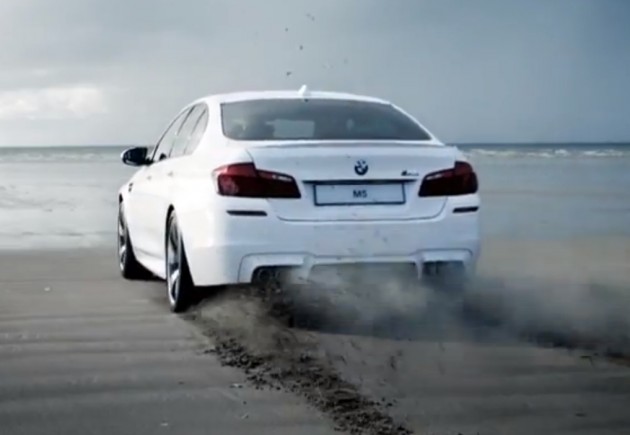 You can't argue the man knows how to steer, and you certainly won't disagree that the new 412kW, 680Nm twin-turbo 4.4-litre V8 engine sounds just superb. The new BMW M5 is fast, too. So it's no wonder it couldn't get traction on the sand.
Recently, Car and Driver completed a 0-60mph test (97km/h) and achieved it in just 3.7 seconds in the new model, more than half a second quicker than the factory time of 4.4 seconds. This has tuning companies, such as G-Power, really pumped to stretch the true potential of the twin-turbo V8 engine. We're guessing tuners will have power figures climbing well above 450kW in no time.
The new BMW M5 is set to launch in Australia in February, 2012.